Blog | 3 min read
Top 5 impacts of economic development
May 7, 2018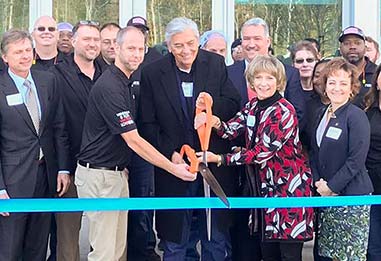 It feels like everywhere you turn there's a new accolade touting Greater Richmond's outstanding quality of life, access to quality jobs or booming craft beverage scene. We all love our hometown communities, but it takes dedicated people working tirelessly behind the scenes to get the attention of a corporate decision-maker. By attracting businesses to the region, economic development can have an impact on many aspects of our economy. Here are our thoughts on the top five impacts of economic development:
Provides Richmonders with more and better jobs
Economic developers provide critical support and information to companies that create jobs in our economy. When a new company locates in the region, they hire within the community for newly created jobs or recruit new Richmonders to the area. Let's say you have a job that pays the bills, but isn't a perfect fit. By attracting more companies to the region, the pipeline of available jobs widens providing you with more opportunities to find that dream job.
Strengthens the regional economy and provides stability
Thoughtful and coordinated economic development diversifies the economy and ensures our region won't falter if a large employer decides to close. To do this, the Greater Richmond Partnership (GRP) markets the region around the world as an ideal location to do business. These efforts help to grow industries such as Corporate Services, Information Technology, Finance & Insurance, BioScience, Advanced Manufacturing, Supply Chain and Food & Beverage. In partnership with the economic development offices of the City of Richmond and the counties of Chesterfield, Hanover and Henrico, as well as with the state-led Virginia Economic Development Partnership, this collaborative team of economic developers work to attract companies that will create jobs that are attractive to current residents, new graduates and maybe even entice those who left the region to return.
Local businesses are provided with resources to succeed
Local economic development agencies at the City of Richmond and the counties of Chesterfield, Hanover and Henrico work to ensure local businesses are provided with the resources they need to succeed. GRP supports their work through programs such as Business First and the Metro Richmond Exports Initiative, so businesses can receive the tools, education and networks to prosper and potentially expand. Maybe you have the next great start-up but need a larger space or assistance understanding new tax regulations; local economic developers can connect you with the perfect resources to meet your needs.
New investments help the community thrive
Increased presence of companies in the region leads to economic prosperity of the surrounding community. Through increased tax revenue stemming from capital investment by these companies, local infrastructure and community projects have the resources to thrive. Schools, parks and even non-profit organizations can benefit from new companies entering the local economy.
More and more bragging rights
With overall improvement of the region's economy, the standard of living for residents will continue to increase. Economic development helps everyone by creating better jobs, supporting community initiatives and fostering a place for our kids and recent graduates to succeed. Thanks to a collaborative region, we have a lot to brag about.
*****
The Greater Richmond Partnership is celebrating Economic Development Week (May 7 – 12) along with economic development organizations across the world and the International Economic Development Council (IEDC). The event, held annually, was inspired by GRP President & CEO Barry Matherly when he was chair of IEDC.