Blog | 3 min read
Why companies manufacture in the Richmond, Va., region
October 4, 2018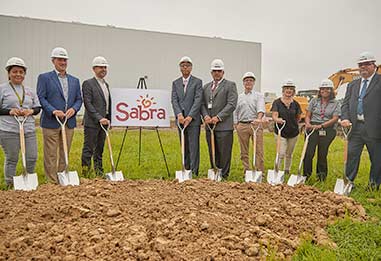 The Richmond, Virginia, area has a long history of producing quality goods. Richmonders were the first in the New World to mine coal and create iron works — even the first packages of cellophane and aluminum foil rolled off Richmond production lines. Today, manufacturers continue that tradition with advanced materials and fine chemicals, including DuPont's Kevlar and Evonik's dryer balls. The reasons why are plentiful.
Location, location, location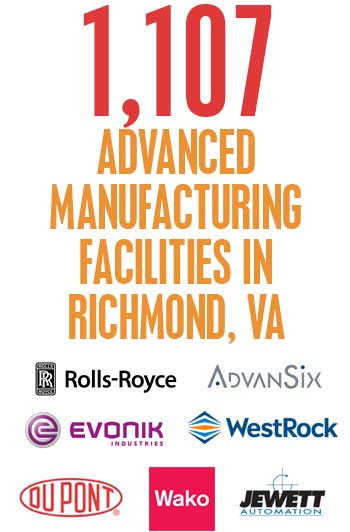 Richmond's natural advantage at the mid-point of the U.S. East Coast has attracted domestic and international companies alike. With access to Interstates I-64, I-95 and I-85 converging in the metro area, companies can quickly distribute products to both Northeastern and Southeastern markets. In fact, we're one day's drive from 45 percent of the U.S. population which makes for efficient supply chain operations (especially for food manufacturers like Sabra Dipping, Mondelez and Maruchan).
An alternative to the region's 100+ motor freight companies is the Richmond Marine Terminal, which is an affordable choice for container-on-barge deliveries. The Terminal's 64 Express service connects to the Port of Virginia, the third largest container port on the U.S. East Coast. Local power users of the barge service include Lumber Liquidators, WestRock and Altria.
Sites and Buildings
Whether your company is searching for an existing site or looking to build from scratch, the Richmond Region has a myriad of options. Building costs are 11 percent below the national average in the area and ready-to-go sites with zoning, water and sewer, transportation access, and competitive incentives are available throughout the region.
Spec building development has surged in recent years, with companies jumping to lease light industrial opportunities – even before construction is completed. And most developments are already being marketed.
A skilled workforce
As advanced manufacturing moves toward more robotics and engineering, area companies have found their current – and future – workforce locally.
The Virginia Commonwealth University (VCU) College of Engineering offers undergraduate and graduate degrees in chemical, electrical and computer, mechanical, and nuclear engineering as well as computer science. At VCU's da Vinci Center for Innovation students from the engineering, business and art schools collaborate to solve research problems for corporate clients. Companies are also supported by certification and training programs provided by the Community College Workforce Alliance.
Nearly 31,300 skilled manufacturing employees are available in-market. This proven labor force is comfortable with 24/7 operations and advanced manufacturing technologies. Workers' Compensation and Unemployment Compensation costs are among the lowest in the nation and Virginia is a right-to-work state with low levels of unionization and union election activity.
Membership-driven associations
One ground-breaking consortium that bridges the gap between research and development to actuality is the Commonwealth Center for Advanced Manufacturing (CCAM). CCAM is an applied research center that brings together fundamental research conducted at universities and product development performed by companies. Member companies pool resources, share risk and capitalize on the success of CCAM's research and development.
The Virginia Manufacturers Association (VMA), dedicated to manufacturers and their allies, develops policies and activities on behalf of its member by serving as an advocate for legislative, regulatory, and other manufacturing-related issues. The VMA is member-centric organization and has a professional staff who serve as a primary resource for consultative services and programs to remain highly competitive.
The region has a strong lineage of manufacturing companies that have leveraged Greater Richmond's advantages. But we're just getting started.