Success Story | 3 min read
CoStar Research Center
December 17, 2019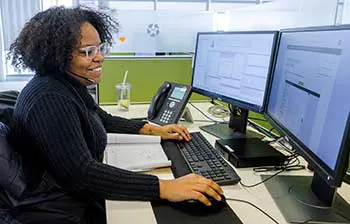 Company Needs and Goals:
In 2015, CoStar Group Inc., the largest provider of commercial real estate information, analytics and online marketplaces in the U.S., began searching for an ideal location for its new research facility. The middle office facility would host tenant research, portfolio research and software development. Because the majority of CoStar's workforce is new college graduates, the new location needed to be attractive and affordable to that demographic. In October 2016, CoStar selected the Foundry Park building in Richmond, Va., for its largest research center. It planned to invest $8.2 million in the new facility and host 732 new jobs.
Partnership Involvement:
The Greater Richmond Partnership (GRP) worked with the City of Richmond and the Virginia Economic Development Partnership (VEDP) to assist CoStar's decision to choose Richmond. GRP hosted company representatives in downtown Richmond, introducing them to the central business district of the city, and provided research for the company to assess the merits of the Richmond Region.
Why CoStar Chose Greater Richmond:
Besides Richmond, CoStar considered locations in Kansas City, Mo., and Charlotte, N.C. Richmond is near to CoStar's headquarters in Washington D.C., and the affordability and manageable city-living in downtown Richmond offered an attractive setting to a millennial workforce.
A $4 million grant from the Commonwealth's Opportunity Fund was approved to assist with the project, and CoStar was eligible to receive state benefits from the Virginia Enterprise Zone Program, which is supported by the Virginia department of Housing and Community Development. Additionally, the Virginia Jobs Investment Program offered funding and services to support new employee training.
CoStar had access to talent pools from local universities, especially Virginia Commonwealth University's Real Estate Program. In 2017, CEO Andrew Florance gifted $2.5 million to the VCU School of Business to establish the CoStar Group Endowed Chair in Real Estate Analytics.
About CoStar Group:
Founded in 1987, CoStar conducts expansive, ongoing research to produce and maintain the largest and most comprehensive database of commercial real estate information. The group operates LoopNet, the most heavily trafficked online commercial real estate marketplace, as well as Apartments.com, the most trafficked apartment listing site.
About the Greater Richmond Partnership, Inc.:
The Greater Richmond Partnership, Inc. (GRP) is the lead regional public-private economic development organization for the City of Richmond and counties of Chesterfield, Hanover and Henrico in Virginia. GRP recruits companies from all over the globe which provide employment opportunities and taxable capital investment for the community. For more information, visit www.grpva.com