Success Story | 3 min read
Hanover Foils
May 25, 2017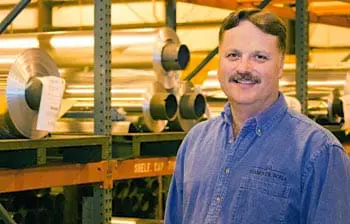 Hanover Foils is a flexible packaging converting company. The company specializes in supported and unsupported packaging structures, including confectionary foils; food wrap foils; beverage and dairy foils; industrial foil products; and pharmaceutical, medical and nutraceutical foils. Hanover Foils' products can be found in any number of places, from the lid on a cup of yogurt to a roll of duct tape to car parts to candy wrappers.
Hanover Foils is located in Ashland, in Hanover County, the northernmost county in the Richmond Region, Va. They operate a cutting-edge, 80,000-square-foot production facility where they build their own equipment and have robust R&D capabilities in place. The startup has been well received in their market, due in large part to their R&D capabilities and product innovation. Hanover Foils has seen their growth double every year since their founding in 2009.
President Howard Hager points to numerous factors that make Hanover County an ideal place to start and grow a business.
"The resources here are tremendous. Virtually every part, every piece that we need made or fabricated, everything is here to make it happen. The engineering is here; the supplies are here," says Hager.
The company is able to source parts and other resources locally. This network of local partners gives Hanover Foils a distinct edge over competitors.
Explains Hager, "I know that some of my competitors are in places where those resources aren't as available, and I know that it's a huge cost to them. A machine may break down. Competitors just don't have the resources to get those parts, to get their machines up and running quickly. We're just situated in the perfect place to make things happen quickly."
He also describes county staff as being on-point and quick to help new businesses.
"The county itself was extremely helpful. For a start-up business, you don't know all the resources that are available. Everyone at Hanover County was extremely helpful to point us in the direction that we needed to go, to help with financing, utilities, all those things you need to start a business," says Hager.
The cost of doing business is another draw.
Says Hager, "The tax rates are very competitive with just about anywhere in the country."
Hager also sees the workforce in Hanover and the Richmond Region as an advantage for entrepreneurs.
"I know some places have problems getting quality people with good educations. That's not an issue with this area. If anything, there's definitely a surplus of quality people."
The county's transportation infrastructure is another advantage, Hager says.
"The location on 95 is easy to get to. Customers can find us easily. Richmond International Airport is close. There is rail service. Trucking companies are our neighbors. And the Port of Norfolk is within an hour-and-a-half drive."