Blog | 4 min read
Black executives bring DEI best practices to the stage
February 1, 2023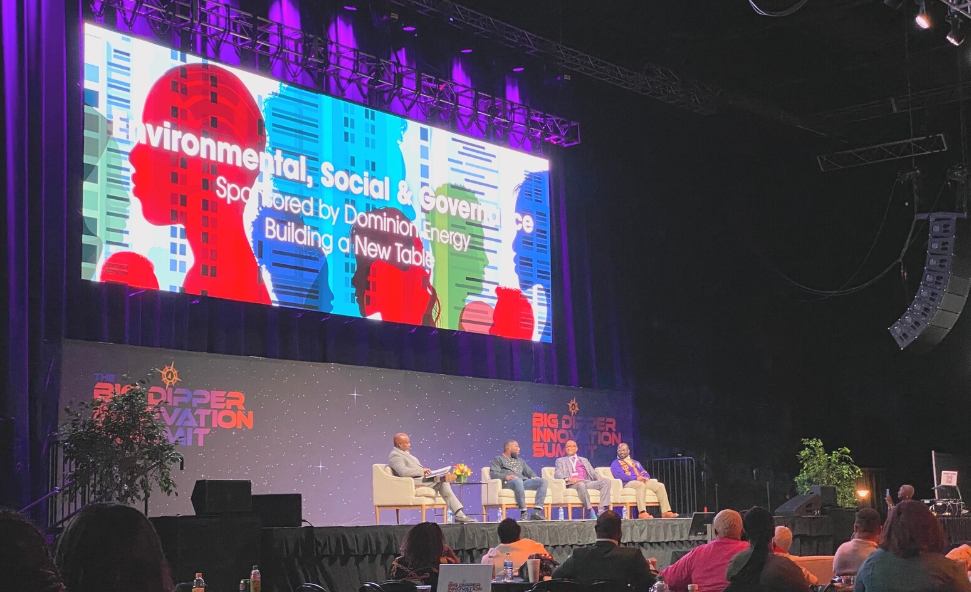 Plenty of companies promise diversity standards but few put forth the energy for immediate results. According to Carlos Brown of Dominion Energy, 20 percent of the utility company's 60 executives are Black, including the President of Dominion Energy Virginia. Compared to 7 years ago, Dominion Energy employed only one executive of color. Greater Richmond employers like Dominion Energy are setting intentional hiring practices to meet corporate-wide Diversity, Equity and Inclusion (DEI) initiatives.
Intentional hiring practices was just one topic of conversation at the Big Dipper Innovation Summit – a conference hosted by JMI at Virginia State University partly sponsored by the Greater Richmond Partnership. The summit gathered innovative thinkers in entrepreneurship, higher education, tourism, health, media and more for panel discussions highlighting Diversity, Equity and Inclusion (DEI).
In a session titled "Environmental, Social and Governance: Building a New Table," GRP investors Dominion Energy and Bank of America took to the stage to discuss ways the two organizations innovate when it comes to governance principles.
Dominion Energy's Brown, Senior Vice President, Chief Legal Officer and General Counsel, and Bank of America's Victor Branch, Senior Vice President, Richmond Market, shared their expertise in the panel discussion along with Virginia State University Department of Political Science and Public Administration Interim Chair Dr. Wes Bellamy.
Investing in a diverse workforce
Over the last few years, companies like Dominion Energy are increasingly working toward intentional hiring practices to boost diverse workforce numbers. Hiring practices are a great tool to consider when seeking a more diverse workforce. Bank of America has similar practices and recently earned recognition for its success.
Branch shared Bank of America's #1 ranking as the 'Most Just Company' by JUST Capital and CNBC based on investing in employees, minimizing environmental impacts, supporting its community and more. The bank's efforts have not gone unnoticed in Greater Richmond as Bank of America constantly invests in the local higher education system to prepare a diverse and inclusive future workforce.
In addition to corporate and community partners, the region's 22 colleges and universities, including HBCU Virginia State University, helps to prepare the next generation of Greater Richmond's workforce. Thanks to the work of higher education institutions and instructors such as Bellamy, graduates entering the local workforce have a greater understanding of DEI.
During the "Environmental, Social and Governance: Building a New Table" session, Bellamy highlighted a crabs analogy he often shares with his students: crabs aiming to escape a bucket will pull their peers down in a "if I can't have it, neither can you" mentality.
As he does with his students, Bellamy shared the inaccurateness of the analogy entirely. According to Bellamy, crabs are not normally found in buckets and therefore, would not be inclined to pull others down. Who put the crabs there and why? Who wants others to fail? Bellamy urges students to think outside of the box, a tool that will only bolster the region's innovative workforce.
DEI in Greater Richmond
Thanks to companies like Dominion Energy and Bank of America as well as Greater Richmond's two HBCUs, the region is ahead of other mid-sized competitors when it comes to Diversity, Equity and Inclusion.
According to Branch, "Richmond gets a considerable number of resources that we deploy locally. In the last two years — particularly since the pandemic and civil unrest — we've been able to deploy over $4 million back into the region to support underserved and under resourced communities to help lift all boats in the rising tides."
The Richmond MSA's population of more than 1.3 million is 45 percent non-white. With the help of DEI-focused company initiatives, the region's non-white population will only continue to rise, enhancing Greater Richmond as a diverse and inclusive place to live, work and play.
CTA: Learn about Diversity + Inclusion in Greater Richmond: https://grpva.com/why-richmond-region/diversity-inclusion/