News | 2 min read
CenterPointe
January 22, 2014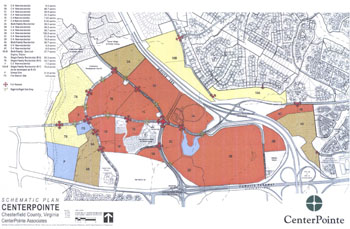 Address: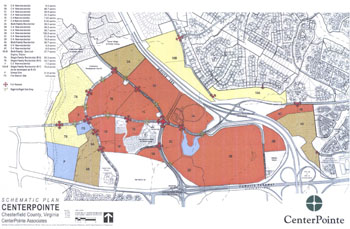 5 Parkwest Circle
Midlothian, VA 23114
Contact:
Garrett Hart
Chesterfield Economic Development
804-318-8550
[email protected]
More information can be found at:
http://virginiascan.yesvirginia.org/propertySearch/PropertyDetails.aspx?propertyID=234407
Site Specification
Site Area (acres)
460.00
Largest Contiguous Parcel (acres)
460.00
Subdividable
Yes
Zoning
C-2; C-4
Utilities
Electric Provider
Dominion Virginia Power
Natural Gas Provider
Columbia Gas of Virginia
Water Provider
Chesterfield County
SewerProvider
Chesterfield County
Telecommunications Provider
Verizon
Broadband Speed Level
NA
Transportation
Interstate / Distance
I-64, / 10.0 miles
4-Lane arterial Highway / Distance
Charter Colony Parkway / 0.0 miles
Commercial Airport / Distance
Richmond International Airport / 20.0 miles
General Aviation Airport / Distance
Chesterfield County Airport / 5.0 miles
Rail Provider
NA
Labor Statistics *
Total Population:
1,174,408
Total Civilian Labor Force:
611,282
Unemployment Rate:
5.39%
Prevailing Wage-Hour/Annual:
$21.11 / $43,907
Seaport Info
Port of Richmond
24 minutes / 16.6 miles
Port of Virginia (Newport News Marine Terminals)
1 hour 30 minutes / 97.0 miles
Port of Virginia (Norfolk International Terminals)
1 hour 40 minutes / 106.8 miles
Port of Virginia (APM Terminals Virginia)
1 hour 43 minutes / 109.3 miles
Port of Virginia (Inland Port Front Royal)
2 hour 14 minutes / 140.4 miles
Other Port of Entry Info
Richmond-Petersburg
31 minutes / 27.4 miles
Newport News
1 hour 19 minutes / 85.5 miles
Port of Washington – Dulles
2 hour 9 minutes / 123.6 miles
Comments
Home to St. Francis Medical Center Campus.
Total Commercial acreage: 460 acres An 800+/- acre mixed use development located at the intersection o Route 288 and Powhite Parkway. Outstanding transportation access to entire metro area.
Sites available from 1-460 Acres. This is a mixed use development featuring new Bon Secours st. Francis Medical Center located at intersection of Powhite Parkway, Route 288 and Charter Colony Parkway. Sites available for office and retail.
* Population (2012) is based on the locality plus the extended labor market area. Labor force and unemployment rate (Nov 2013) are based on the locality plus the extended labor market area. Prevailing wage is 2nd quarter 2013 locality data. The extended labor market area is defined as the localities located within 25 miles of the border of the base locality.