Blog | 3 min read
Greater Richmond firms have best ever performance on Inc. 5000 list
August 19, 2019
Just weeks after CNBC named Virginia America's Top State for Business, the sheer number of companies on the 2019 Inc. magazine 5000 list demonstrates why the Richmond region and the state of Virginia are perfect locations where entrepreneurship thrives and innovative businesses succeed.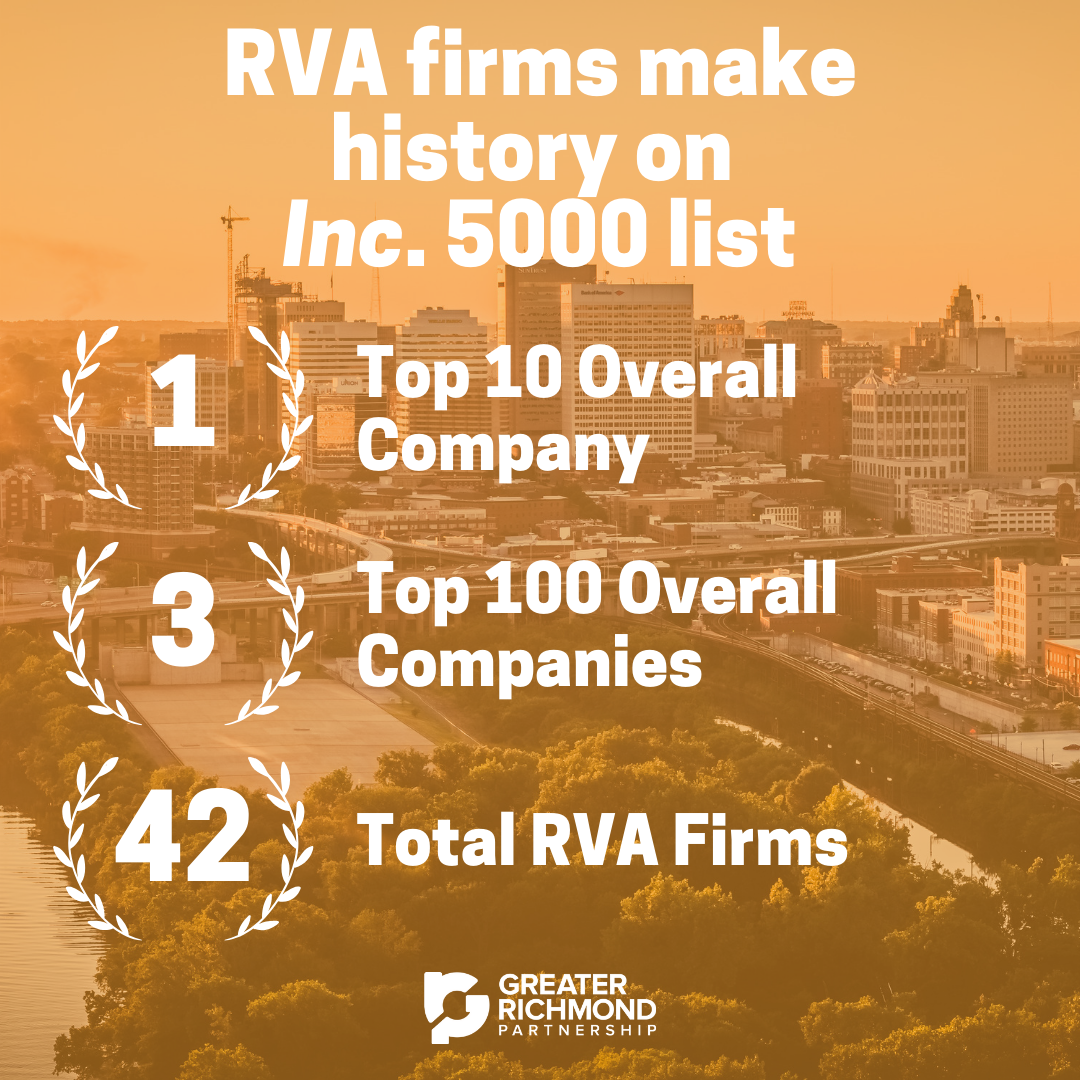 The Richmond Region posted its strongest showing in recent years on the Inc. magazine 5000 list, which is ranked by the revenue growth in the past three years, of the nation's fastest-growing private companies. Virginia ranked fifth among the states in the number of companies on this year's list with 295 companies and 42 being located in Greater Richmond.
Leading Virginia's list of 295 is the Hanover County-based firm Connected Solutions Group, who ranked in the Top 10 companies. Connected Solutions Group is a wireless hardware distributor and re-seller built to provide cost-effective solutions for large volume device deployments. It was the No. 8 overall company on Inc.'s list with a three-year revenue growth rate of 12,701%. Headed by Michael Pittman, the innovative 4-year-old firm reported a revenue of $23.3 million in 2018 and was Inc.'s highest-ranked telecommunications company.

Other top-ranking local firms include West Creek Financial and CapTech Ventures. Glen Allen-based West Creek Financial is a financial services company who ranked No. 65 overall with a revenue growth rate of 4,405% and $89.7 million in revenue. Richmond-based CapTech Ventures is a 22-year-old IT management firm who has made Inc.'s 5000 list for the 13th time.
Jay Markiewicz, executive director of entrepreneurship programs at Virginia Commonwealth University's School of Business said, "These results legitimize the efforts of the community and founders/owners as we all work together to make Richmond, Virginia, a commitment to business success."
"The increase of Richmond companies on the Inc. 5000 reflects how successful and innovative businesses are in Greater Richmond and demonstrates our entrepreneurship community is thriving throughout the region," said GRP President and CEO Lara Fritts.
See how the Richmond region ranks in other high-level business categories here.
Below are the local RVA firms on the Inc. 5000, their rank, three-year growth rate, and revenue for 2018:
8: Connected Solutions Group; 12,701%; $23.3 million
27: FITT Scientific; 7,329%; $15.8 million
65: West Creek Financial; 4,405%; $89.7 million
435: CarLotz; 1,044%; $38.5 million
516: Spinnaker Consulting Group, 850%; $6.1 million
518: Vape Guys; 845%; $3.8 million
560: Employdrive; 794%; $2 million
715: Gather Workspaces; 613%; $2.2 million
1051: Shockoe.com; 399%; $4.1 million
1100: Swig; 381%; $17.7 million
1156: WealthForge; 359%; $23.5 million
1331: The Jenny Maraghy Team; 310%; $2.5 million
1349: Old Dominion Mechanical; 306%; $4.4 million
1370: DJB Hospitality Holding Co./Sedona Taphouse Restaurants; 301%; $30.1 million
1450: The Hilb Group; 285%; $141.7 million
1711: Need Supply Co.; 238%; $36.3 million
1852: Executive Placements; 219%; $2.8 million
1932: ProfitOptics; 207%; $8.1 million
2099: Conserva Irrigation Franchising; 191%; $36.5 million
2102: Cava Companies; 191%; $7.9 million
2401: Practice Promotions; 167%; $4.5 million
2417: C&S Communications; 165%; $7.6 million
2571: Capital Square 1031; 153%; $68.3 million
2882: Triumph Services; 130%; $3.2 million
3031: Decisiv; 122%; $19 million
3233: Averhealth; 112%; $17.8 million
3279: Dominion Payroll; 110%; $17.7 million
3344: Brandito; 107%; $6.6 million
3421: NetSearch Digital Marketing; 103%; $5.6 million
3436: Mosquito Squad; 103%; $61.7 million
3559: The Branding Agency Powered by Proforma; 98%; $6.1 million
3707: 37th Parallel Properties; 93%; $4.8 million
3858: CapTech Ventures; 86%; $192.4 million
3877: Canal Capital Management; 86%; $2.9 million
4073: Allied Instructional Services; 79%; $7 million
4206: TK Promotions; 74%; $2.9 million
4305: Solvaria; 71%; $4.1 million
4451: Taradel; 67%; $18.1 million
4486: Baskervill; 66%; $23.7 million
4575: Morton; 64%; $12.8 million
4772: Career Support Systems; 59%; $4 million
4889: Timmons Group; 56%; $86.4 million