Blog | 1 min read
GRP Investor Forum: The Untapped Potential of Middle Office
June 22, 2018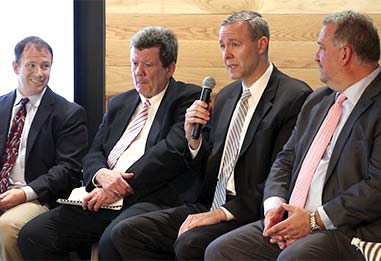 In the always evolving world of economic development, communities are continuously looking for ways to attract and grow businesses that will bring quality jobs and capital investment. Here in Greater Richmond, we've had several recent successes in attracting major divisions of companies (AvePoint, CoStar, ICMA-RC) from higher priced markets like New York City and Washington, D.C.
The Greater Richmond Partnership recently hired one of the world's top site location firms — Wadley Donovan Gutshaw Consulting — to take a deep dive and analyze how Greater Richmond stacks up against the competition in these types of projects which we're calling 'middle office'.
At our Summer Investor Forum, we looked at the results and discussed what this means for our region. Moderated by Angela Kelly-Wiecek, Hanover Board of Supervisors and Chair of GRP Board of Directors, the panel included:
David Eastep, Sr., Senior Research Director at CoStar Group
Dennis Donovan, Principal at WDG Consulting
Brian Brown, Corporate COO and General Counsel at AvePoint
Barry Matherly, President & CEO at Greater Richmond Partnership
A special thank you to CoStar Group for hosting the Summer Investor Forum!