News | 2 min read
Partnership made $823.6m economic impact on the Richmond Region
August 10, 2017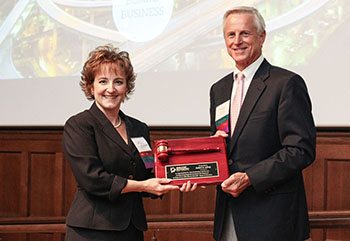 More than 9,000 jobs created during 2014-2017 goals cycle
RICHMOND, VA – The Greater Richmond Partnership ("Partnership"), the Richmond Region's economic development group, announced that its efforts resulted in $823.6 million in wealth creation for the area during the 2014-2017 fiscal years. The announcement occurred at the organization's 23rd Annual Meeting which was hosted at the University of Richmond's School of Business on Wednesday, Aug. 9.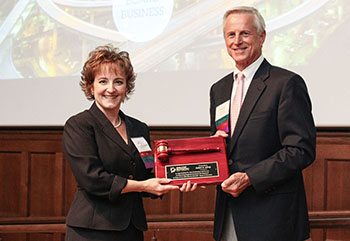 "Increasing the amount of jobs in the region is the single-most impactful undertaking that our organization can do to improve the wealth in our community," said Barry Matherly, CEO and President of the Partnership. "What we've learned through economic modeling is that direct traded jobs create company supplier positions, which spawns consumer jobs that include retail and food service. It's an effect that ripples across multiple years and we build on those accomplishments every year moving forward."
During the evening event, the regional organization unveiled its results for the 2016-2017 fiscal year, which included supporting the creation of more than 1,500 direct new jobs and $162.2 million in new capital investment. Through collaborative efforts of the GRP's partners and allies, the business attraction program successfully assisted 16 new and expanded companies, including Niagara Bottling Co., CoStar Group, and Owens & Minor.
The 2017-2018 fiscal year kicks off a new five-year goals cycle for the organization which started on July 1. Those goals include:
Attracting $2 billion in investment to the community
Stimulating the creation of 10,000 jobs
More than 100 investors, stakeholders, and allies attended the evening reception which featured the Honorable Angela Kelly-Wiecek, Chair of the Hanover Board of Supervisors; Bobby Ukrop, CEO of Ukrop's Homestyle Foods; Barry Matherly, President/CEO of the Partnership; and Dr. Ronald Crutcher, President of the University of Richmond.
Outgoing Chair Bobby Ukrop passed the gavel to Angela Kelly-Wiecek, who succeeds Ukrop after serving as the Board's Vice Chair for the last two years.
About the Partnership
The Greater Richmond Partnership, Inc. is the regional economic development organization for the City of Richmond and counties of Chesterfield, Hanover and Henrico. The Partnership impacts the Richmond Region by recruiting companies from all over the globe, which provide employment opportunities and taxable capital investment for our local community. For more information, please visit www.grpva.com.
# # #