News | 4 min read
Region receives export grant to increase GDP
April 8, 2015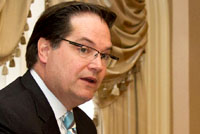 JPMorgan Chase awards VCU with research funds, Greater Richmond Partnership and collaborators to expand export initiative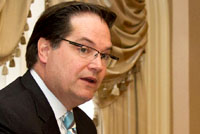 RICHMOND, VA – Virginia Commonwealth University's Center for Urban and Regional Analysis has been awarded a $140,000 grant from JPMorgan Chase to support the development of strategies for increasing exports in the Richmond Metropolitan Statistical Area. VCU will be working in collaboration with the Greater Richmond Partnership, the region's economic development organization, during the course of the project.
"Exporting is, and will continue to be, critical for economic development in the Richmond area," said Nick Klym, Executive Director, Middle Market, JPMorgan Chase. "JPMorgan Chase has a long history of working with business and government leaders to help them become more competitive through trade and investment and we are proud to support the partnership of VCU's Center for Urban & Regional Analysis and the Greater Richmond Partnership."
The Partnership launched an export initiative last year as a means to grow the pipeline between firms with export potential and the region's many export-specific service providers. The Partnership developed the initiative based on a model for similar work provided by the Brookings Institution's Global Cities Initiative, a joint project of the Brookings Institution and JPMorgan Chase.
Details of the grant were announced during a briefing on lessons from the Global Cities Initiative conducted by Marek Gootman, director of strategic partnerships and global initiatives at the Brookings Institution. The 100-year-old Brookings Institution is a private nonprofit organization devoted to independent research and innovative policy solutions. It is consistently ranked as the world's most influential, most quoted and most trusted think tank.
"Greater Richmond is acting on what our research shows is untapped exporting potential that can grow this region's economy and support better quality jobs," Gootman said. "Greater Richmond now is among a small group of U.S. and international metro areas pursuing comprehensive regional plans to strengthen their firms and economies by focusing on global opportunities. This type of intensified focus and collaboration among business, government, and civic leaders is yielding tangible results."
"Now that VCU is involved, our export agenda can really take off," says Greg Wingfield, president & CEO of the Partnership.
Bolstered by the research support provided by the VCU Center for Urban and Regional Analysis, Greater Richmond has a strong foundation for the steps ahead. VCU will expand the effort by engaging regional stakeholders, and then addressing the challenges, perceptions and needs of potential exporters. The work will result in the development of several strategies the Richmond Region could use to boost international trade. Bolstered by the research support provided by the VCU Center for Urban and Regional Analysis, Greater Richmond has a strong foundation for the steps ahead.
"This work is important on several levels," said Wingfield. "When exporting firms diversify their customer base their bottom lines are protected in times of economic downturn. They're also more likely to create local jobs and make more investment in their local communities. From a regional perspective, exports are important to our ability to stay globally competitive, a key factor when we go out to attract foreign firms who are also creating jobs and making investments in Greater Richmond."
"Our job is to work with the community to develop strategies for increasing exports in the region," said John Accordino, Ph.D., professor of urban and regional planning and director of the Center for Urban and Regional Analysis at VCU. "We're very pleased to partner with JPMorgan Chase and to continue a long tradition of working with the Greater Richmond Partnership. And we are delighted to have the benefit of Brookings Institution insight as we go along."
The Center for Urban and Regional Analysis, housed in the L. Wilder School of Government and Public Affairs, was established by the Virginia General Assembly in 1992 to serve government, business and non-profit organizations at the town, city and regional levels.
About the Partnership
The Greater Richmond Partnership, Inc. was launched in 1994 as a pioneering public-private initiative to serve as the regional economic development group for the City of Richmond and counties of Chesterfield, Hanover and Henrico. Over the course of 20 years, the 501(c)(3) non-profit organization has assisted more than 450 companies that have invested $10.7 billion in capital investment in the Richmond Region. For more information, please visit www.grpva.com.
# # #
Contact: Gregory H. Wingfield, CEO/President
Greater Richmond Partnership, Inc.
Phone: (804) 643-3227 | Email: [email protected]
Photos of the breakfast briefing are available on Flickr: https://flic.kr/s/aHsk9WzBN9