Blog | 3 min read
Richmond airport breaks records, flies toward the future
August 22, 2019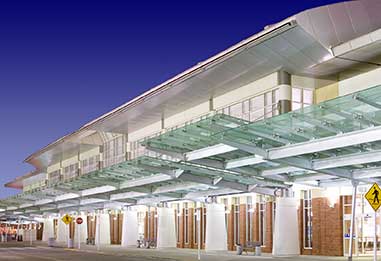 Richmond International Airport (RIC) had its most productive 12 months to date, topping annual records set in 2018. More passengers passed through the airport than ever before, increasing on a near-monthly basis. In this wave of progress, the airport named Perry J. Miller, AAE, IAP, the new President and CEO to lead the Capital Region Airport Commission, succeeding Jon E. Mathiasen, AAE, who retired after 19 years at the helm. The Airport Commission directs the growth, operation, and business activities of RIC and is governed by 14 commissioners appointed by four Richmond-area jurisdictions including the City of Richmond and counties of Chesterfield, Hanover, and Henrico.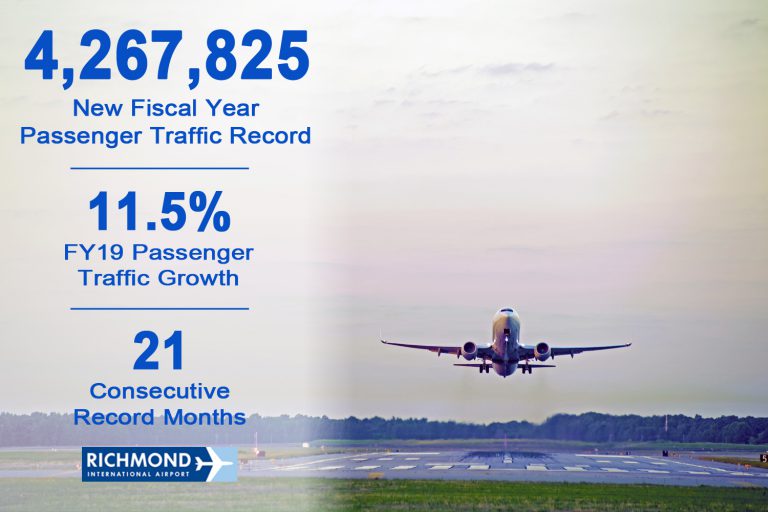 RIC served 4.268 million passengers in its 2019 fiscal year, an 11.5 percent increase over the previous fiscal year. It isn't any surprise that FY19 was overall record-breaking since June 2019 was the 21st consecutive month at RIC that an all-time monthly passenger record was set. In the past two years alone, RIC's passenger traffic rose more than 20 percent. Passenger growth may motivate carriers to provide more capacity and result in increased frequency or larger aircraft to in-demand locations — already a current trend at RIC.
Passengers aren't the airport's only area of growth since 2018:
Aircraft operations increased by 4.8 percent
Cargo shipping increased 2.5 percent for a total of 140 million pounds of cargo
Operating revenue reached $52.9 million, 12 percent higher than RIC's FY19 budget
Fitch affirmed an "A" rating on approximately $72.6 million outstanding airport revenue bonds issued by the Airport Commission; Davenport & Company assisted the Commission in delivering an exemplary debt review for RIC bonds
Shipping nearly 140 million pounds of freight annually, goods distributed out of the Richmond region can be halfway around the world by air and reach up to 45 percent of the U.S. population by truck within a one-day drive. This makes RIC one of the best-situated air cargo facilities in the nation. Customers of FedEx, UPS, and DHL regularly benefit from RIC's strategic position. RIC's accessibility to top cargo carriers allows local businesses to ship products into domestic and international markets in one to three business days.

The airport is also a Foreign-Trade Zone (FTZ #207), defense production zone, and an enterprise zone. The FTZ is utilized as an ideal resource for international entities to limit the taxes on their cargo and to reach their markets. The defense production zone benefits businesses engaged in the development and production of materials, components, or equipment that meet the required needs of national defense. The airport is also a part of an enterprise zone that provides incentives, including rebates, limited taxes, and assistant grants, for qualified industrial and commercial organizations.
On peak days, there are nearly 180 flights coming and going from Richmond International Airport. To accommodate increases in air traffic — while encouraging the trend to continue — RIC committed nearly $70 million in expansion upgrades. Of that total, $28.5 million is dedicated to the Concourse A Expansion Project which is well underway and expected to be completed in May 2020.