News | 4 min read
Richmond Region welcomes AvePoint, Inc.
January 29, 2016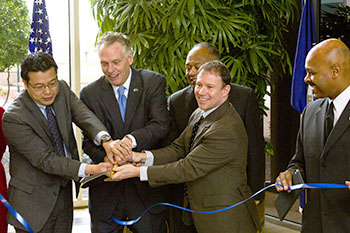 Tech company to hire 80-100 for sales office in City of Richmond
RICHMOND, VA – The Greater Richmond Partnership announces that AvePoint, Inc., an independent software provider specializing in Microsoft solutions, has established an office in the City of Richmond. In the next three years, AvePoint plans to hire 80-100 people for sales and back office opportunities.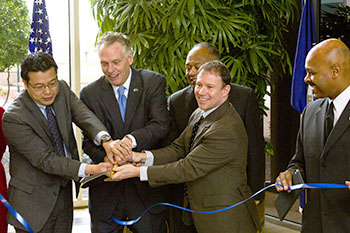 Founded in 2001, AvePoint has become the world's largest provider of enterprise-class governance, compliance, and management solutions. Headquartered in Jersey City, N.J., AvePoint employs 2,000 people worldwide in 27 offices.
In September 2015, the Partnership received a call from Brian Brown, one of the company executives, expressing interest in establishing a new department for AvePoint's sales functions. It turned out that Brown's office was just a few floors above the Partnership's office in Riverfront Plaza. "This was the shortest distance we ever had to travel to meet with a prospect," joked Barry Matherly, President/CEO of the Partnership.
Brown moved to the Richmond Region when he began his employment with McGuireWoods LLP.  Among other executive functions, Brown manages all of the legal functions globally, serves on the boards of most of the company's subsidiaries and has been a part of AvePoint since its inception. He later married his wife, Amy, a life-long Richmonder who made it clear that a marriage to her was a marriage to Richmond.
"It was the easiest decision I ever made," said Brown.
So when considering a new location for AvePoint, Brown's love for his adopted hometown weighed heavily in AvePoint's decision.
"Richmond's been my home for 17 years, and although AvePoint conducted extensive analysis of locations across the East Coast for the best location, GRP convinced us that this region was the best place for our company's expansion," said Brown. "We look forward to hiring local talent and investing in the local community."
AvePoint was seeking 30,000 square feet of Class A office space to provide sales support. The company was on the fast track and needed to make a location decision by the end of December. Richmond region had some stiff competition, with AvePoint looking at Atlanta, Georgia and considering expansion at other locations in the Northeast corridor. As part of the talks, GRP made a presentation to other executives during their tour to Richmond. GRP's research team also prepared labor study analysis and cost comparisons that proved the region's value.
Greater Richmond successfully competed against Newark, N.J., Philadelphia, Penn., and Atlanta, Ga.
"Our region is a great location for tech companies – and their employees – thanks to our thriving technology scene and excellent quality of life," said Partnership Research Manager Olga Molnar, who managed the project. "In order to attract their future employees, who mostly come straight out of college, it was important for AvePoint to locate in an area that offered an easy commute, a walkable community, and proximity to restaurants and other amenities. And they were able to find a perfect location right in downtown Richmond."
"AvePoint's decision to expand in Richmond speaks to the City's strong business climate and ability to compete and retain new economy companies with international footprints," said City of Richmond Mayor Dwight C. Jones. "We are proud that AvePoint has chosen Richmond and are committed to helping AvePoint grow their company in our great Capital City."
About AvePoint
AvePoint is the established leader in enabling enterprise collaboration across platforms and devices. Focusing on helping enterprises in their digitization journey to enable their information workers to collaborate with confidence, AvePoint is first to market with a unique solution that centralizes access and control of information assets residing in disparate collaboration and document management systems on-premises and in the cloud. Founded in 2001 and headquartered in Jersey City, N.J., AvePoint serves over 14,000 organizations and 3 million Office 365 users worldwide. AvePoint is privately held and backed by Goldman Sachs.
About the Partnership
The Greater Richmond Partnership, Inc. was launched in 1994 as a pioneering regional public-private initiative to serve as the regional economic development group for the City of Richmond and counties of Chesterfield, Hanover and Henrico. Over the course of 21 years, the 501(c)(3) non-profit organization has assisted more than 465 companies that have invested $10.8 billion in capital investment in the Richmond Region. For more information, please visit www.grpva.com.
# # #