Blog | 8 min read
RVA tech companies proving value during pandemic
May 28, 2020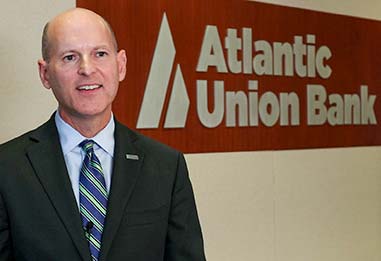 From rising to the challenge to pivoting at the right time, Greater Richmond technology companies have provided exceptional service during the COVID-19 pandemic. The technology industry is likely one of the few industries that are dealing with the pandemic with the least amount of disruption — adapting easily to working from home with existing workforce.
The Greater Richmond region's outstanding quality of life have made us a region technology companies are choosing — and will continue to — as working from home becomes a permanent part of our workplace cultures. A rising factor for relocation or expansion decisions is a vibrant community for employees.
Here are just a few ways the Greater Richmond region's technology companies are quickly adapting to meet the needs of their clients.
Atlantic Union uses response techniques for business improvements
Richmond-headquartered Atlantic Union Bank saw the wave of loan applications about to sweep toward it after the CARES Act was passed. Acting quickly, the bank raced against the limited amounts in the first round of SBA funding.
It responded with a smart mix of automation and manual loan application processing that improved its approvals by 5-times.
By working with its technology partner, Temenos, the bank built a new digital loan portal specifically for the Paycheck Protection Program (PPP) in less than a week. The bank's SBA loan application portal went live the first day PPP was available.
The bank had previously purchased a system for consumer lending, but concluded it was too robust for a consumer loan application. However, when the SBA announced its loans that would be forgiven if used to maintain payrolls, the bank's chief digital and customer experience officer, Kelly Dakin, realized the system was the perfect fit.
"I reached out to Temenos and said we had changed direction and wanted their help on a loan application workflow. They grabbed their best developers and solution architects and went to work," said Dakin.

"We faced two crises — COVID followed by the massive SBA loan program," said John Asbury, the bank's CEO. Thanks to Zoom video conferencing "we have never had better communication. We were making decisions as rapidly as I have ever seen in my 32-year career in banking."
That, and long hours by the technologists, were key to getting the system built so fast. Temenos was available on speed dial 24×7, said Dakin.
"Everyone anticipated the SBA program would be popular, but I don't think anyone anticipated how popular it would be," said Derek Corcoran, chief experience officer at Temenos. "I have worked with banks that were proud to launch a new product in four months, and this was four days."
GoHappy changes offerings shortly before pandemic
Even before the coronavirus outbreak, the Richmond-based startup company GoHappy was shifting the emphasis of its business model. Founded in 2015 by a small group of developers and business partners including Shawn Boyer, the founder and former CEO of the Henrico County-based online job-search company Snagajob, the GoHappy app was initially designed as a social media tool.
Since the outbreak, the company's pivot seems to have become all the more salient. The company's online platform is designed to offer a way for businesses and other organizations to more effectively communicate with hourly employees.
In 2019, the company shifted its focus and introduced an online platform designed to help businesses and organizations send communications to their hourly employees at no cost to the employees themselves.
"Our top-priority focus is on helping organizations that have a large audience of hourly employees to communicate with them in a much more efficient way," said Boyer in an interview with Richmond.com.
"In most cases, companies don't have a way to communicate with their hourly employees," said Boyer, adding that about 70 percent of the hourly workforce is considered "unengaged" from their jobs. "When you have an unengaged employee, it costs you in terms of lower productivity and absenteeism."
With so many companies putting employees on furlough during the outbreak, "they have a need to be able to communicate with their people who have not been furloughed, but also those who have been furloughed," Boyer said. "They need to have a way to bring those people back when things do start to bounce back, whenever that is."
Roundtrip for healthcare workers, too
Since its product's launch in 2017, Richmond-based Roundtrip has been arranging rides for people getting to and from medical appointments, such as routine surgeries or other non-emergency visits. Roundtrip acts as a mediator between transportation companies and care managers who are, for example, needing to help a patient who does not have other transportation to an appointment.
As the health care world has been plunged into chaos due to the pandemic, non-emergency appointments are being postponed and Roundtrip has been contacted as a way for healthcare facilities to coordinate the rides of their employees. The integration of a platform they are already familiar with, combined with the possibility of getting essential workers to their health care jobs without the use of public transport or other shared transportation, seemed to be the perfect pivot during these times.
"We're starting to see that employee transportation for health systems is a growing need," said Roundtrip CTO Ankit Mathur told Richmond Inno. "We're also transporting patients that need to go to COVID screenings and we're helping facilitate the discharging of a lot of non-COVID patients to improve the overall patient flow capacity … It's very interesting to see these things that our partners are reaching out to us about as their needs evolve."
Coordinating transfers for patients leaving the hospital in order to free up bed space during the public health crisis seems critical in a time of hospital bed shortages around the country. The startup also emphasizes the role it could play in working alongside health systems to transfer patients to COVID-19 testing sites.
Mathur also stressed that the health and safety of those being transported and those working in transportation is prioritized above all else. Roundtrip has focused on working with their near 400 medical partners to ensure that all CDC-recommended guidelines for protection and cleanliness are being followed. For now, as elective medical procedures get put on the back burner, Roundtrip has stepped up to fulfill their role in the health crisis wherever they can.
"I don't know if life will go back to exactly the same, but I think we'll all come out of this with a different mindset about our public health," said Mathur.
App reminds you to distance in social situations
After its core technology of helping retailers identify consumer preferences was shaken during the pandemic, the founders of the Richmond-based startup Regulr developed a new mobile app called Distance, giving people a gentle reminder to maintain 6 feet of social distancing to help prevent the spread of the coronavirus.
"It gives people a real-time tool to encourage social distancing behavior," said Stephen Dodge, founder of Regulr. "That is the goal of the app, to help people confidently maintain social distancing. As things open up, that is our best defense, other than PPE and sanitation. Social distancing is something we can keep top of mind."
People can download the Distance app onto their mobile devices. It uses Bluetooth technology to alert them by vibrating whenever their device gets within 6 feet of another device that also has the app installed.
"As of right now, it is approved in the Google Play Store, if you have an Android device," Dodge said. "What we are trying to accomplish now is to find an IOS partner for the app."
To make the app available on IOS devices, Apple Inc. wants the company to find a large, institutional partner to introduce it, such as a government agency, health care provider or a university.
Regulr wants to give away the app for free to an institution that can promote it to large numbers of people, which is the only way it can really work to its best effect.
"Our biggest goal right now is really finding the right partner that will be able to reach and help the most people," said Luke Rabin, the company's product lead. "Otherwise, we are only helping a fraction of the people that we could be helping."
Rabin and Dodge said the tool is designed to protect privacy — it does not exchange any information between users other than the proximity alert. Unlike contact tracing systems, it does not track where its users go over a period of time.
Adapting to the pandemic
It's not easy for companies to turn their services on a dime, but our region's innovative companies are making it happen – and flourishing. The innovative environment in Greater Richmond contributes to a workforce who are willing and capable of adapting to challenging times.