Blog | 4 min read
Major Pharma reshoring contract brings attention to BioScience in Greater Richmond, Virginia
May 29, 2020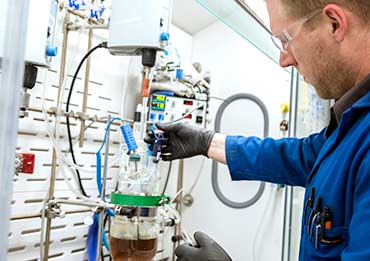 The Trump Administration recently announced a $354 million, four-year contract with Richmond, Virginia-based start-up Phlow Corp. to bring advanced manufacturing of America's most essential medicines at risk of shortage back to the United States, including medicines needed to treat COVID-19. Phlow will partner with Virginia Commonwealth University (VCU), Civica Rx and AMPAC Fine Chemicals on the project.
Phlow was founded by Dr. Eric Edwards, Ph.D., also co-founder of Kaleo, a pharmaceutical company providing innovative solutions for serious and life threatening conditions, and B. Frank Gupton, Ph.D., CEO of Medicines for All Institute, a program of VCU's College of Engineering working to reduce the cost of active pharmaceutical ingredients.
Gupton, a chemical scientist with a long career in industry before arriving at VCU in 2007, says the Phlow contract shows the value of the investments Virginia is making in higher education research to produce innovative technology.
Gupton and his Medicines for All Institute have been the recipient of major funding from the Bill and Melinda Gates Foundation to conduct the same process methodology that Phlow will utilize. Overall, VCU is considered a "very high research" activity university according to the Carnegie Foundation based on major funding from organizations like the NIH.
Innovation flourishes throughout the university which was demonstrated when researchers developed clinical trials for COVID-19 within the first few weeks of the pandemic. Other researchers at VCU Health worked on a process to decontaminate N95 masks.
Hundreds of employees at DuPont's Spruance manufacturing site, the company's largest facility in the country, have been hard at work ramping up production of Tyvek, which is being utilized to both decontaminate N95 masks as well for PPE to shield front-line workers from the virus.

The region is home to Fortune 500 company Owens & Minor, a leader in healthcare services and logistics, which has significantly ramped up production of its mask and gowns in the U.S. in light of COVID-19. The company serves as a member of the White House COVID-19 Supply Chain Stabilization Task Force helping the government navigate supply chain concerns related to PPE.
Partnering with the White House Task Force and FEMA, McKesson Medical-Surgical has been on the front-lines of COVID-19 managing the logistics of PPE. The company division, headquartered in Greater Richmond, is the nation's largest distributor of wholesale medical supplies and equipment to alternate care sites, has seen a ten-fold increase in demand for PPE this year.
Other companies have shifted their business model or materials to develop PPE such as Cupron – which devised a reusable copper face mask that protects wearers from cross contamination – and packaging manufacturer INDEVCO North America which announced a shift of its manufacturing materials to make fabric for protective isolation gowns, worn by first responders and medical workers.
Resources for businesses
Bioscience companies in the Greater Richmond region have a multitude of resources at their disposal.
Industry association Virginia Bio is located here as is Activation Capital, the anchor for the knowledge-based innovation and entrepreneurial community in the region, which manages the Virginia Bio+Tech Park. The 34-acre park has more than 1.3 million square-feet of space with 70+ life science companies and 2,400 scientists, engineers and researchers. And work is already underway on a new 100,000 square-foot building.
From industry-related incentives specific to bioscience such as the Bioscience Investment Tax Credit to Seek-Stage Equity Investment and more, Virginia is committed to advancing the industry. Venture capital firms abound and accelerators such as Lighthouse Labs – including a recently announced fall accelerator program aimed at health-focused startups – and incubators like Startup Virginia and the Dominion Energy Innovation Center provide both space and mentorship to companies interested in growing their presence in the market.
Why companies select Greater Richmond
World-class talent, favorable operating costs and an attractive cost of living for recruiting talent were cited as advantages by GSK recently when they announced the recent expansion of their R+D facility with 150 new jobs. Another company citing the Richmond Region as a great place for talent attraction and quality of life is Pharmaceutical Product Development, LLC (PPD), which also recently announced plans to expand their lab adding 200 new jobs.
Greater Richmond, Virginia, definitely has an established bioscience cluster and major players like those above as well as Fareva, FujiFilm Wako Chemicals and many others. And with its convenient location at the midpoint of the East Coast, the region is ideal for distribution. Add in the state capital and proximity to national labs and agencies in Northern Virginia, the region has all the ingredients for success.