News | 3 min read
Thomson Reuters selects Richmond for cybersecurity facility
September 6, 2017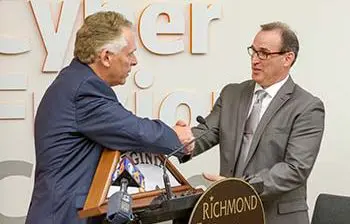 Center to have up to 60 employees in downtown
RICHMOND, VA – The Greater Richmond Partnership ("Partnership") announces that Thomson Reuters, a news and information company, will open a new internal cybersecurity operations center in downtown Richmond. The company plans to hire up to 60 employees in highly specialized roles by the end of 2018.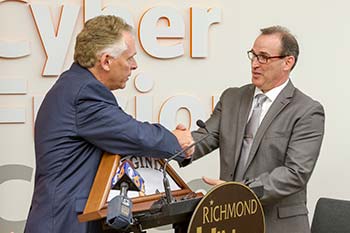 "Our new Cyber Fusion Center is an important element of our enhanced information security program," said Tim McKnight, Chief Information Security Officer, Thomson Reuters. "Establishing a presence in Richmond provides us excellent access to talent and cyber-related resources from the nearby academic, research and military communities. We look forward to being a good corporate citizen in the Richmond community."
Thomson Reuters is the world's leading source of news and information for professional markets. Customers rely on Thomson Reuters to deliver the intelligence, technology and expertise they need to find trusted answers. The business has operated in more than 100 countries for more than 100 years.
"Richmond is an emerging leader in innovation and technology. We are where America's most progressive businesses want to locate and grow," said Mayor Levar M. Stoney. "I'm thrilled to welcome Thomson Reuters as the latest such company to make the Richmond move. We have a highly-skilled and talented workforce ready to fill the cybersecurity jobs they bring, and we look forward to their future success here in our capital city."
The Partnership has built a relationship with Thomson Reuters since 2011 and have met several times at its New York office to discuss expanding to the region. However, the cybersecurity office project originated with the Virginia Economic Development Partnership ("VEDP"). Matt McLaren, Business Investment Manager for Technology at VEDP, first approached the Partnership's Vice President of Business Development Bethany Miller in March searching for renovated office space. Justine Mulholland, Business Development Manager for the City of Richmond's Economic & Community Development department, and Miller worked together to attract the project to the city.
Thomson Reuters selected Richmond for its low operational costs and great labor force. Florida, South Carolina and Maryland were also heavily considered.
"We had the exact real estate that Thomson Reuters was looking for with an ideal talent pipeline so the project moved very quickly. We hope to be able to attract more of the company's operations in the future," said Barry I. Matherly, President/CEO of the Partnership. "Business Facilities magazine recently named Virginia one of the states with the highest growth potential for cybersecurity and we're happy to live up to that promise."
Colliers International and CBRE | Richmond helped to secure the 10,000-square foot office at 901 E. Byrd Street inside Riverfront Plaza. Colliers' Matt Hamilton, First Vice President of Richmond & Norfolk, and Chris Wallace, Senior Vice President of Richmond & Norfolk, represented the company while CBRE's Trib Sutton, Senior Vice President and Director of Brokerage Services, David Wilkins, Senior Vice President, and Matt Anderson, Senior Vice President, represented the property.
About the Partnership
The Greater Richmond Partnership, Inc. is the lead economic development organization for the City of Richmond and counties of Chesterfield, Hanover and Henrico. The Partnership impacts the Richmond Region by recruiting companies from all over the globe, which provide employment opportunities and taxable capital investment for our local community. For more information, please visit www.grpva.com.
# # #