News | 3 min read
UK-based Detectamet chooses Henrico for North American operations
September 28, 2015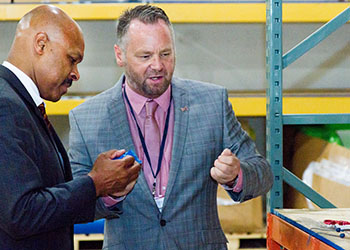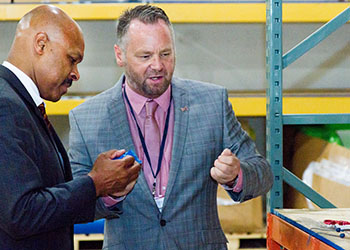 RICHMOND, VA – The Greater Richmond Partnership announces that Detectamet, a designer and manufacturer of metal and x-ray detectable plastic products, has opened its first international facility in Henrico County. The UK-based company plans to hire 15 employees and invest $1 million in the 14,000-square-foot operation.
"We are extremely pleased to welcome Detectamet to Henrico and its growing international corporate community," states Frank J. Thornton, Chairman of the Henrico County Board of Supervisors. "Detectamet's successful track record in the UK and their expansion into the North American market is a testament to their strong leadership and talented employees. We wish them much success and look forward to a prosperous relationship."
The firm was originally established in 2003 as an engineering component supplier, but soon began working with major food and beverage manufacturers supplying products such as detectable stationery, personal protection wear and processing products. Detectamet's unique products can be identified by metal or x-ray detection systems if they were to fall into the production line, saving food manufacturers millions of dollars.
"The Partnership prides itself on attracting innovative international companies to the area that seek to expand their market share to the U.S., and Detectamet is a great example of that," said Barry Matherly, Partnership president/CEO.
The firm was recently selected as one of 200 companies to be awarded the UK's prestigious Queen's Award for Enterprise. Its achievements in exporting were helped by its biggest customer country — the United States. Detectamet saw an opportunity to grow its expanding customer base when the FDA Food Safety Modernization Act (FSMA), the most sweeping reform of American food safety laws in more than 70 years, was signed into law by President Obama on Jan. 4, 2011. The law aims to ensure the U.S. food supply is safe by shifting the focus from responding to contamination to preventing it.
Detectamet President Angela Musson-Smith said, "This is our first expansion beyond the UK and it has been a fantastic experience working with the Greater Richmond Partnership and Henrico County. They have made the transitional stages of the company set up an immensely effective and smooth operation and we look forward to supporting them in return whenever we have the opportunity."
The company first started searching the Greater Richmond area for warehouse space last year, but had difficulty finding a suitable site.
"Detectamet was referred to the Partnership so we could broaden their real estate search in the region, as well as help with data, meetings and visa issues," Matherly explained. "They were originally drawn to the area for our talented labor pool, business-friendly climate, and high quality of life."
Besides real estate options, the company requested information regarding work visas, regional wages, and customs information.
The Greater Richmond Partnership, Inc. was launched in 1994 as a pioneering public-private initiative to serve as the regional economic development group for the City of Richmond and counties of Chesterfield, Hanover and Henrico. Over the course of 21 years, the 501(c)(3) non-profit organization has assisted more than 465 companies that have invested $10.8 billion in capital investment in the Richmond Region. For more information, please visit www.grpva.com.
# # #