Blog | 2 min read
Va. Secretary of Commerce & Trade Merrick tours Greater Richmond
August 28, 2023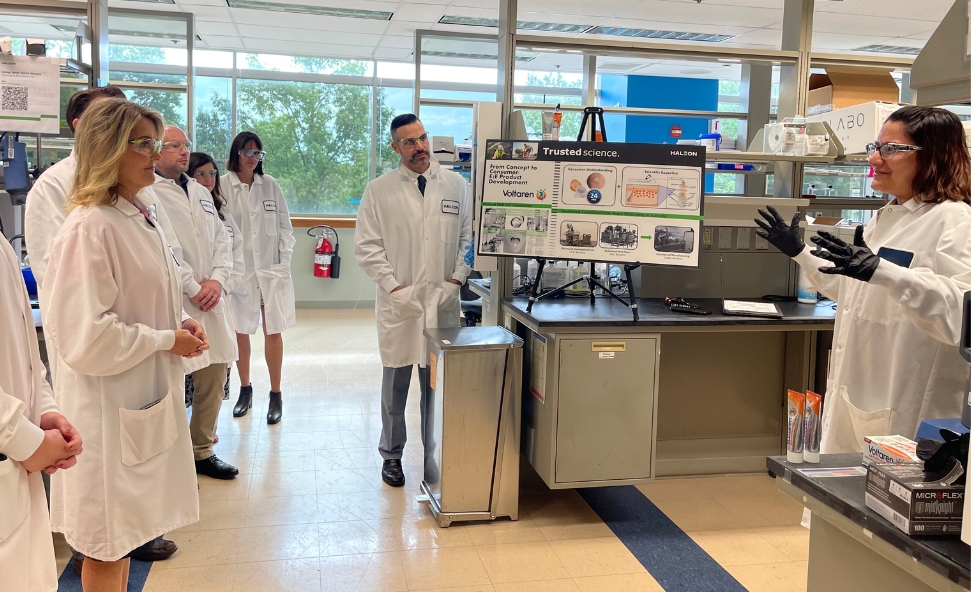 Last week, the Greater Richmond Partnership hosted Secretary of Commerce and Trade Caren Merrick for a tour showcasing the region's thriving economic landscape.
GRP staff were joined by members from economic development partners at the City of Richmond, Chesterfield County, Hanover County and Henrico County as well as the Virginia Economic Development Partnership. The group visited several companies in each of the region's four localities during the tour, participated in a regional business outlook discussion and a reception hosted by McGuireWoods Consulting as well as a dinner with members of GRP's Regional Leadership Circle.
Regional tour
Accompanied by GRP and others, Secretary Merrick and Deputy Secretary Joe Benevento learned from a diverse range of businesses:
Haleon, a multinational consumer healthcare company, operates a research and development facility in the City of Richmond while tapping into talent from the region's higher education institutions.
Wegmans, a well-known supermarket chain and among the biggest private companies in the U.S., is gearing up to operate a logistics and distribution facility out of Hanover County. Plus, Wegmans is planning to support operation expansion along the East Coast and in the South by hiring office jobs here in Greater Richmond.
Meta's Henrico Data Center, part of the social media company's global infrastructure, supports more than 200 jobs.
Super Radiator Coils is a manufacturing company in Chesterfield County specializing in high-quality heat transfer equipment.
Regional business outlook + reception
During the regional business outlook, participants had the chance to hear from and talk with Secretary Merrick about local happenings and future opportunities for Greater Richmond. While at the reception, Merrick joined GRP and its investors at McGuireWoods Consulting for an intimate networking event. Individuals had the opportunity to meet and connect while representing Greater Richmond and showcasing the advantages of our region.
Thank you to McGuireWoods Consulting for their assistance during the event and to Hourigan for providing personal protection equipment for our facility tours. See photos from the tour and reception here.