Blog | 2 min read
Experts discuss international investment
March 20, 2018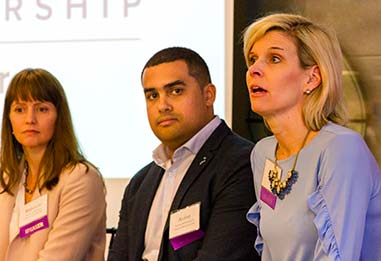 Companies from across the world are selecting the Richmond, Va. region for a U.S. location making this the top ranked mid-sized city in the nation for foreign direct investment. This trend has no plans on slowing down as more than two-thirds of active Greater Richmond Partnership prospects are international companies.
The GRP recently held an Investor Forum event focused on the importance of international companies investing in the region. The event was moderated by Victor Branch, Richmond Market President of Bank of America, and speakers included international companies who recently located in the region — Amine Belmeslouhi from Polykon Manufacturing and Amber Roberts from iMPREG, LLC. Joining them were Rebecca Moudry, Vice President, Business Development at Research on Investment, and Olga Molnar, GRP's Vice President, Global Investment.
Key takeaways from the event included:
The United States continues to be the biggest market in the world and the largest recipient of the foreign direct investment (FDI).
International firms are locating in the Richmond region because of the existing research and development in the region, access to markets they can export to and the ability to acquire new technology or business processes in the region. These were the main reasons why both iMPREG and Polykon Manufacturing decided to locate their facilities in the region.
However, all firms that are expanding into new global markets seek certainty. According to the AT Kearney FDI Confidence Index, 'General Security Environment' was cited as the top consideration by Fortune 1000 executives for their next FDI location. This is a significant change from previous years in which Domestic Market Size has traditionally held the top spot.