News | 2 min read
Partnership signs agreement with Korean Medical Device Association
October 15, 2015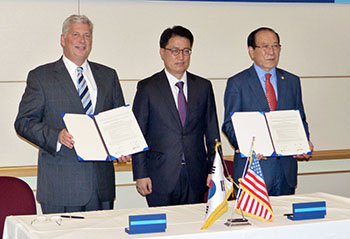 RICHMOND, VA – The Greater Richmond Partnership announces the signing of a Memorandum of Understanding (MOU) with Korea Medical Devices Industry Cooperative Association (KMDICA). The two organizations intend to establish a collaborative effort in the fields of medical research and development of medical devices and healthcare related technological advancements.
"Health and Life Sciences is a target industry for the Richmond Region, and we've seen a lot of interest from international companies," said Barry Matherly, President and CEO of the Greater Richmond Partnership. "Signing an agreement between our organizations will help us make valuable inroads with Korean firms looking to expand to the United States."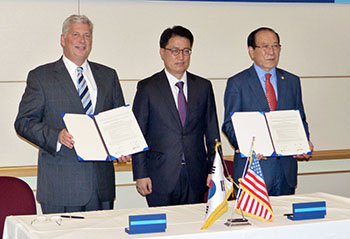 This MOU will assist KMDICA in building solid relationships in the Greater Richmond region with such institutions as the Virginia Biotechnology Research Park and Virginia Commonwealth University in order to advance research and innovation in the U.S. and Korea.
Brian Fulk, Senior Vice President of Business Development, signed the agreement alongside Bae Byoungjun, Ministry of Health & Welfare of the Republic of Korea, and Jai Wha Lee, Chairman of KMDICA, at the Ronald Reagan Building and International Trade Center in Washington, D.C.
"It was an outstanding event and we're excited to begin this collaborative effort between our two organizations," Fulk said. "We have made an effort to target industry groups that can benefit from expanding to the Richmond Region."
This Memorandum of Understanding (MOU) is not a legal document, but is evidence of the understanding between the parties.
About the Partnership
The Greater Richmond Partnership, Inc. was launched in 1994 as a pioneering regional public-private initiative to serve as the regional economic development group for the City of Richmond and counties of Chesterfield, Hanover and Henrico. Over the course of 21 years, the 501(c)(3) non-profit organization has assisted more than 465 companies that have invested $10.8 billion in capital investment in the Richmond Region. For more information, please visit www.grpva.com.
# # #