Blog | 4 min read
ICYMI: GRP's FY23 Annual Meeting recap
October 5, 2023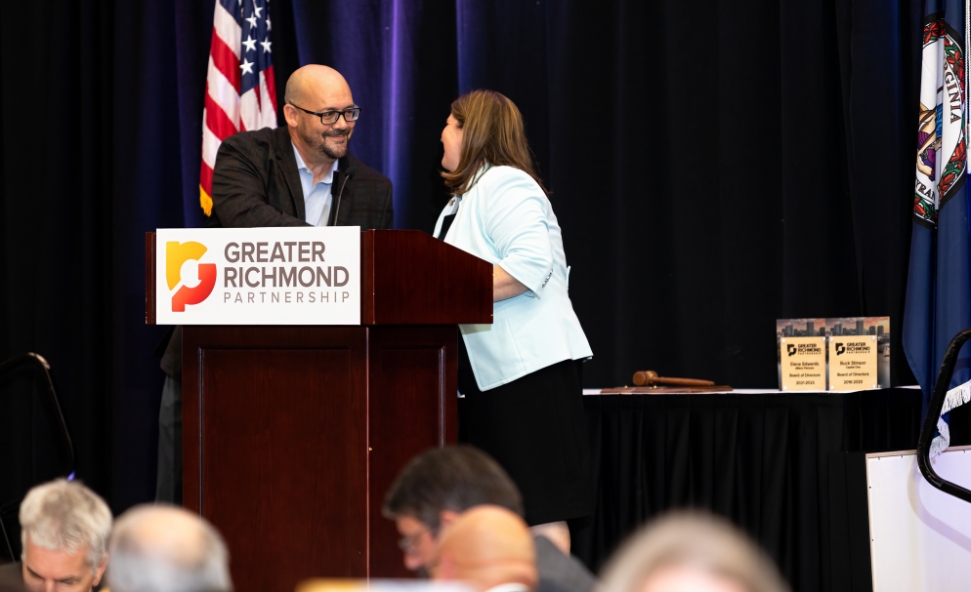 The Greater Richmond Partnership (GRP) held its Annual Meeting for Fiscal Year 2022-2023 on Sept. 27 to recap the year's results as well as to hear from special guests, present the change in Board leadership and present the Ukrops Economic Development Service Award honorees.
Not only did attendees have the chance to learn about GRP's recent activity, but they were also provided with the opportunity to network with one another before and after the program. View photos from the event here on Flickr.
FY23 activity
Through marketing efforts and business development activities, GRP assisted five companies in locating in the region that created 437 jobs and generated $384 million in capital investment, impacting 500,000 sq.ft. of real estate.
According to GRP President + CEO Jennifer Wakefield, "The economic impact of those five projects creates an additional $90 million in wealth creation for the community, ensuring local economic stability, increasing asset ownership and expanding public services."

Testimonial from Plenty Unlimited
Plenty Unlimited Senior Vice President of Deployment Bill Graf shared updates on the company's recent announcement to build the world's largest indoor vertical farm with a $300 million investment that will create 300 jobs.
Graf thanked those involved in the project, which went vertical in August, and shared insight on Plenty's site selection process. According to Graf, Greater Richmond's strategic location, business friendly environment and its access to utilities and a pad-ready site all helped to sway the organization to locate here.
According to Graf, "It's been an amazing experience coming to the Richmond area. We had a choice is everywhere around the country to go to. We're going to make 2 million kilograms of strawberries a year. We're building that first farm in Virginia and we're going to we have the rights to build about 5 to 6 more farms on that land. In my 20 years of building and constructing, installing equipment, being around the country, I have got to say, by far, this has been the most unique experience of different groups coming together and supporting us."
Passing the gavel: change in Board leadership
City of Richmond Council Member Dr. Cynthia Newbille passed the gavel to the new Chair of the Board Charlene Whitfield, a retired executive of Dominion Energy. This is the first time in GRP's 29-year history that back-to-back chairs of the Board of Directors are women of color. GRP is proud to create history this year and will continue to explore the organization's role in creating a more diverse and equitable region.
Honoring the Ukrops Economic Development Service Award winners
The Ukrops Economic Development Service Award was created by GRP to honor volunteers who have dedicated their time and resources to aiding GRP's vision for economic prosperity. The award is named after Jim and Bobby Ukrop, the first recipients in 2022, for their nearly three decades of service to the organization.
This year, GRP honored Angela Kelly-Wiecek and Patricia O'Bannon. Under their direction, $4.25 billion has been invested in Greater Richmond and more than 18,000 jobs have been created.
Angela has lived in Hanover County for two decades and has served on the Board of Supervisors for more than half of her residence. She quickly joined the Board of the Greater Richmond Partnership after her election in 2011. Angela served as Chair of the GRP Board of Directors from 2017 to 2018.
According to Brandon Turner, director of Hanover County Economic Development, "Angela fights hard for not only Hanover County but the Richmond Region. She's very passionate about the community as a whole and the entire region and she celebrates the success of everybody."
Like Angela, Patricia O'Bannon has made giant contributions to regional economic development. She is a trailblazer in Henrico County politics, becoming the first woman elected to its Board of Supervisors. During her 24-year career, Patricia has served the county as Chair an outstanding six times. Pat also served as Chair of the GRP Board of Directors from 2014 to 2015 and currently serves as Vice Chair.
"I think Mrs. O'Bannon gets it," said Anthony Romanello, executive director of the Henrico Economic Development Authority. "She gets economic development not just in Henrico, but in the region and in Virginia. And I think her contribution in that regard is really being steadfast in making sure that we can continue to grow the economy in a way that fits nicely with the kind of community we want to have."
Future outlook
The Greater Richmond Partnership thanks those who were able to attend the Annual Meeting and looks forward to hosting another successful meeting next year to highlight even more progress for the region.
If you would like to be more involved with GRP, learn about investing here.