Blog | 3 min read
Virginia snags #1 spot for Business Climate with Greater Richmond wins
November 2, 2022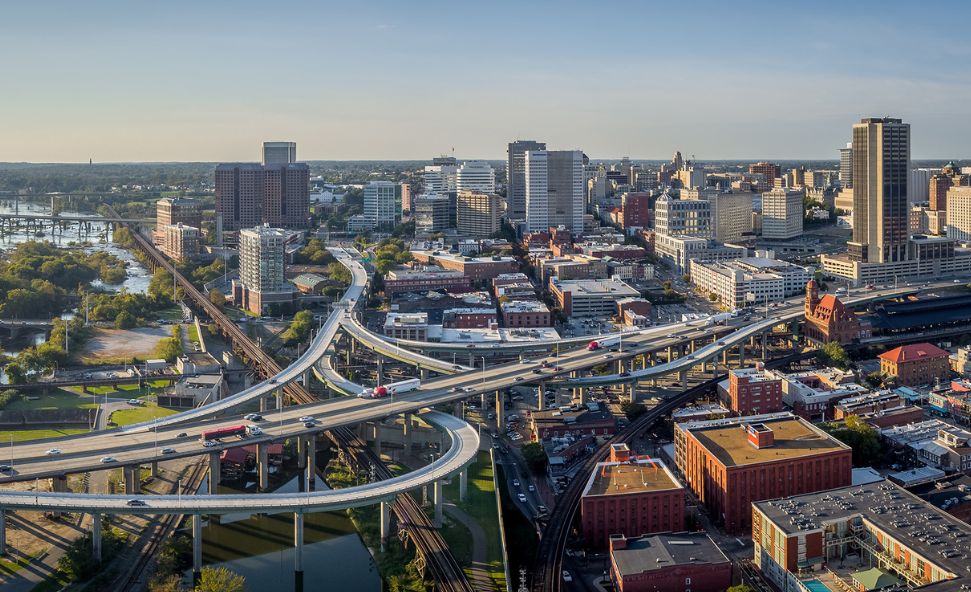 Site Selection Magazine released its 2022 Top States for Business Climate rankings and Virginia claimed the #1 title. While Virginia is no stranger to the top 10 for this ranking, this marks the first year the Commonwealth takes the top ranking from Georgia, which held the #1 position for eight consecutive years.
This year, nearly 20 percent of Virginia's top 25 projects based on capital investment took place in Greater Richmond and three of those projects land in the Commonwealth's top 5 announcements.
Site Selection's 2022 Top State for Business Climate Rankings
Overall ranking
State
Executive Survey Pts
2021 Conway Projects/PC Pts
2022 YTD Conway Projects/PC Pts
2022 Tax Climate Pts
Inc. 5000/PC Pts
2022 Rankings That Matter Pts
2022 CNBC Top States Pts
2022 CyberStates Tech Emp/% Pts
2022 Infra Projects/$ Pts
Final Total Points
1
Virginia
40
44/40
45/44
31
46/49
30
48
46/49
47/49
608
2
Georgia
48
45/38
49/45
36
45/43
47
41
41/38
41/46
603
3
Texas
46
51/46
50/41
10
49/34
43
46
49/37
49/48
599
4
North Carolina
49
47/39
47/42
44
37/29
50
50
40/36
38/38
586
5
Arizona
41
33/29
41/36
35
43/45
17
17
35/39
43/44
498
6
Ohio
43
50/48
48/47
29
37/25
41
36
39/23
17/13
496
7
Florida
41
42/13
32/7
43
48/42
40
40
47/26
44/22
487
T8
Indiana
43
43/44
45/49
46
27/14
31
37
27/15
34/30
485
T8
California
30
48/6
39/10
22
50/41
23
22
50/44
50/50
485
10
Illinois
30
49/45
43/31
7
44/39
37
32
44/32
17/34
484

Source: Conway Data Projects Database, Site Selection Magazine, 2022
Top States for Business Climate
Site Selection Magazine judges its Business Climate rankings based on a site selectors survey, total qualifying projects, business tax climate data, Inc. 5000 firms per capita, CNBC's Top States for Business and more. The methodology for these rankings takes a more holistic approach than others by including rankings from other publications, like the Inc. 5000 list and CNBC's Top States for Business, providing a well-rounded assessment for overall business climate.
The magazine's survey for site selectors compares what site selectors deem most important in the location selection process. According to survey results, workforce skills are most important followed by state and local taxes, workforce development and transportation infrastructure.
Greater Richmond's workforce alone is made up of more than 675,200 well-educated and diverse individuals. In fact, 39.4 percent of Greater Richmond's population holds at least a bachelor's degree compared to the U.S. average of 33.5 percent. And thanks to the region's several workforce development programs and partnerships with local colleges and universities, Greater Richmond's workforce is either readily skilled or prepared to learn new skillsets.
"Obviously, the many contributions from Greater Richmond played a big role in this victory." Ron StarnerExecutive Vice President of Conway Inc. and Site Selection Magazine
Greater Richmond contributions
While impressive, the region's workforce is not its only contribution to the Top State Business Climate rankings. Greater Richmond has amassed over a billion dollars in capital investment and gained several thousands of jobs this past year. The region's two mega projects and additional major announcements helped land Virginia at the top of the leaderboards.
According to GRP President + CEO Jennifer Wakefield, "The Greater Richmond Partnership recently completed our most successful 12-month period in the last 20 years… For fiscal year 2022, GRP worked to attract or grow some $1.62 billion in capital investment to our region. The 13 projects represent the creation of about 5,000 new jobs and impact 4.45 million square feet of commercial real estate."
Greater Richmond's four projects that boosted Virginia's ranking include:
Company
Location
Category
Type
Investment ($M)
Sq. Ft. (x1,000)
Jobs
The LEGO Group
Chesterfield

New
Manufacturing facility
1,000
1,700
1,761
CoStar Group
Richmond
Expanding
Headquarters
460
n/a
2,000
QTS Realty Trust
Henrico
Expanding
Data center
425
n/a
n/a
Mondelez International
Henrico
Expanding
Manufacturing facility
123
68
80

Source: Conway Data Projects Database, Site Selection Magazine, 2022
These projects added more than $2 billion of capital investment to Virginia's ranking and surely helped position the Commonwealth at the #1 spot.
Continued success for the Commonwealth
The Greater Richmond Partnership cannot succeed on its own. GRP works heavily with local partners in the City of Richmond and counties of Chesterfield, Hanover and Henrico plus state partners at Virginia Economic Development Partnership.
According to VEDP President and CEO Jason El Koubi, "2021 saw a rebound in project activity following the disruptions experienced in 2020." VEDP announced a total of 130 projects in 2021 and so far in 2022, 65 projects have been announced including Plenty's recent $300 million indoor vertical farming campus.
Read the full article from Site Selection Magazine and more from VEDP's Jason El Koubi.