Blog | 8 min read
Sustainable businesses grow in Greater Richmond
November 16, 2020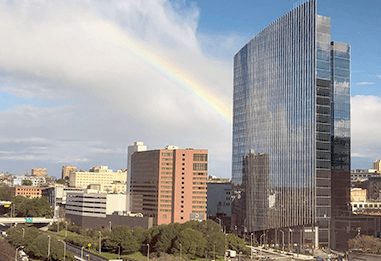 Greater Richmond, the Commonwealth of Virginia and companies that call the area home have made great strides in sustainability efforts recently. Throughout the past year, the region has proven that it is not just great for business — it is also environmentally friendly. Companies are being attracted by like-minded sustainable firms as well as a supportive state government.
Offshore wind and manufacturing suppliers
The governors of Virginia, Maryland and North Carolina recently announced the SMART-POWER collaboration to advance offshore wind projects and promote the Southeast and Mid-Atlantic United States as a hub for offshore wind energy and industry.
Dominion Energy's vision is part of that plan. The Richmond-based utility is planning the largest offshore wind project in the U.S. Located 27 miles off the coast of Virginia Beach, over 220 wind turbines would supply power to 650,000 homes by 2025.
To support the burgeoning wind energy services, international firms are choosing Greater Richmond for the manufacturing of turbine components.
Danish company Rose Holm recently announced intentions to invest $1.35 million to create its first manufacturing facility in Henrico County. Rose Holm is a leading manufacturer of threaded bolts for wind power, food and beverage, and heat exchange industries in Northern Europe.
"We look forward to a strong partnership with Rose Holm as we work to make Virginia a hub for the East Coast offshore wind supply chain and service industries," said Gov. Ralph Northam.
Rose Holm understands that the Commonwealth has many business advantages, including a global gateway from The Port of Virginia. The move by them will bring economic investment, new jobs to the area and help supply industries. It will be the first U.S. manufacturing facility in Henrico's Eastport Distribution Center.

BGB Technology Inc. offers a similar story. The UK-based manufacturer of rotating electrical and optical slip ring assemblies for equipment like wind turbines chose Greater Richmond in 2014.
"Our biggest customer – a Danish turbine company called Vestas – for a number of years they've been putting us under pressure to have a more localized sourcing," Group Operations Director Ian Hemstock explained. "We supply them pretty much all over the world, but it was the U.S. market that was more demanding of localized sourcing." 
Solar in the spotlight
Dominion Energy, the state's biggest utility, has invested $1 billion in its own solar fleet in Virginia and North Carolina. Already ranked among utilities with the biggest solar portfolios, Dominion is aggressively striving for a 55 percent reduction in carbon emissions by 2030.
"We can meet net zero by 2050," says Robert M. Blue, Dominion's executive vice president and co-chief operating officer. "Our response to Virginia Gov. Ralph Northam's directive was, 'Challenge accepted.'
Dominion has also brokered interesting solar deals with high-capacity electric users along the way.
Henrico County's Facebook campus required 100 percent renewable energy via new solar power plants from Dominion Energy as part of the social media company's attraction deal. Six planned projects in Virginia and North Carolina will not affect ratepayers and will sell the 300 megawatts of electrical output exclusively to Facebook. Even under Phase I of its data center campus, Facebook has already invested about $1 billion with eight more data centers on the way.
Dominion struck a solar alliance with Amazon Web Services (AWS) to add 180 megawatts of solar generating capacity in five Virginia counties. Construction of the facilities was enabled through long-term power purchase agreements between Dominion Energy and an affiliate of Amazon's cloud computing business, AWS.
"We continue to ramp our sustainability efforts in areas where availability of renewable energy sources are low or proposed projects are stalled, and where the energy contribution goes onto the same electric grid that powers AWS data centers," said Peter DeSantis, vice president, Infrastructure, AWS.
Health benefits company Anthem has committed to source 100 percent renewable energy by 2025. It recently signed a 15-year power purchase agreement with SunEnergy1 to leverage a new 182-acre solar field in Hanover County, Va. SunEnergy1 is a top U.S. solar developer, owner and operator of utility-scale solar projects. The solar field is almost complete and will be fully functioning later in the year.
In Chesterfield, there are two solar farm projects in the works. The first proposal by Torch Clean Energy is to build both a solar farm and data center complex on a 1,700-acre mega site. One part of the project would consist of a solar farm that would generate 150 megawatts to primarily power the complex.
The second project includes a solar farm across 330 acres in rural Chesterfield. Solar farms have been prevalent across the Richmond Region in recent years and continue to sprout frequently. With more solar projects on the horizon, county leadership recently approved a new county ordinance that permits the construction and operation of solar farms on agricultural property as a conditional use.
In the City, Dominion announced plans for the largest solar array project in downtown Richmond. The proposal includes installing 1,4000 solar panels on top of the five-story parking garage at one of the company's corporate offices. The project is expected to be operational in Spring 2021 and would power roughly 120 homes.
The Briel Farm solar project in Henrico sits on a 220-acre site and supplies electricity to over 5,000 homes. It was approved by county supervisors in 2017 and was sold by Richmond-based Urban Grid to U.K.-based NextEnergy Capital in 2019. It's NextEnergy Capital's first acquisition in the U.S. market. 
Expanding Earth-friendly options
Based in Henrico County, TemperPack provides sustainable packaging for perishable goods and temperature-sensitive medications. The company recently announced a $21 million expansion of its manufacturing operation. Its flagship product is the patented ClimaCell thermal liners that provide similar levels of thermal protection as Styrofoam. ClimaCell is plant-based, 100-percent curbside recyclable and reduces carbon emissions.
"We were growing quickly prior to COVID-19, but that accelerated growth even further," said CEO Brian Powers during an interview with Crunchbase News. "We thought momentum would wane, but our customers instead doubled down on not using Styrofoam."
Building on a legacy in sustainable forestry, WestRock is advancing sustainable packaging by reimagining how to connect people to products in a way that is right-sized, renewable, recyclable and compostable. At its Center for Packaging Innovation in Henrico County, the company develops machinery that produces custom, on-demand packaging accurately sized for many product types. Optimizing manufacturing efficiency while leveraging fiber-based packaging, which in many cases is curbside recyclable, is a formidable one-two punch in promoting sustainability.
Canadian-based Cascades is retrofitting a former paper mill in Hanover County with containerboard machinery, with the total capital investment reaching $380 million. The facility the Bear Island plant will produce 100-percent recycled linerboard and have an annual production capacity of about 465,000 tons by the end of 2025.
Tobacco companies Altria and Universal Corp. focus resources on a sustainable agriculture industry.
Altria, headquartered in Henrico County, employs an Environmental Management framework that reduces greenhouse gas emission. The company is exploring both offsite and onsite renewable energy projects and is committed to a goal of 100 percent renewable electricity.
Universal, headquartered in the City of Richmond, focuses attention and resources on factors affecting sustainability throughout the supply chain, including, reforestation, water conservation, reduced carbon emissions, child labor and environmentally sensitive agricultural practices.
Additionally, Altria's international supply chain is part of an industry-wide steering group to evolve the cohesion between the Sustainable Tobacco Programme and U.N. Sustainable Development Goals. Its focus is on water, crop prevention, biodiversity and forest protection, climate change and waste.
As part of car retailer CarMax's commitment, it conducted an inventory using the Greenhouse Gas Protocol. It was used to formulate a feasibility report and evaluate the company's capability to attain net-zero greenhouse gas emissions from electricity usage throughout its operations. The Richmond-based retailer also employs solar power in some of its stores as well as sunlight harvesting.
In addition, several regional and corporate headquarters have adopted LEED building certifications. CarMax, Costar, Sabra Dipping and McKesson-Medical Surgical have silver-level standards.
Sustainability on campus
One of the largest universities in the state, Virginia Commonwealth University (VCU) aims to make its community greener and more walkable. Along with the Urban Forestry Collaborative, a community-engaged research project out of VCU, students and volunteers planted 70 trees along its urban campus in downtown Richmond.
The trees will offset VCU's carbon footprint — representing one piece of the university's commitment to environmental stewardship. As part of this commitment, VCU aims to reduce greenhouse gas emissions by 17 percent by 2025. The university's ultimate goal is reaching carbon neutrality by 2050.
Like VCU, the University of Richmond aims to offset all carbon emissions by 2050 and adopted theirSustainability Plan last year. UR announced plans to build a 20-megawatt solar energy facility, making it the first college or university in the Southeast to match 100 percent of its electricity needs with solar energy. These actions have landed the private university on the Princeton Review's annual Guide to Green Colleges year-after-year.
"Higher education institutions strive to be at the forefront of our ever-changing world," says Erin Stanforth, VCU's director of sustainability. "We have to be the model for behavior change. It's the responsible thing to do."
And companies are finding that responsibility is adding to their profit margins.