Blog | 3 min read
Advanced Manufacturers see returns from Richmond Region investment
October 21, 2020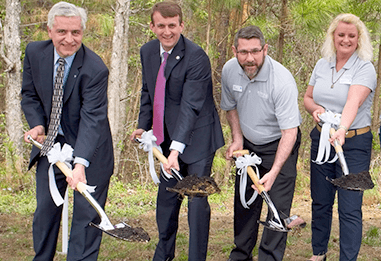 Gov. Ralph Northam recently announced that Danish company Rose Holm will invest $1.35 million to establish its first U.S. manufacturing facility in Henrico County. This is the Richmond Region's latest announcement in the advanced manufacturing industry.
Three manufacturers decided to open new facilities in Greater Richmond recently: CameraMatics (tracking equipment), Cascades Inc. (Paperboard), and Niagara Bottling LLC (water bottling) have all invested in new facilities. Temperpack (sustainable packaging) also expanded its operations. The capital investment from these four companies totaled $406 million. Other manufacturing firms that have recently broken ground on new facilities include ERNI (electrical components), Cartograf (packaging), and Polykon (cosmetics).
There are many reasons that these corporations are moving to the Greater Richmond region. The area has a low cost of business which includes electric rates that are 30 percent below the national average. It is also conveniently located near major metros in the Northeast.

With this, the Greater Richmond region provides a complete manufacturing value chain from more than 1,100 advanced manufacturing companies. There are also numerous Fortune 500 companies with sophisticated logistics operations that have found a lot of success such as Altria (tobacco and wine), Performance Food Group (food distribution), and Owens & Minor (medical supplies).
The area offers resources for advanced manufacturing companies including the Commonwealth Center for Advanced Manufacturing (CCAM). CCAM leverages talent and resources from Virginia universities' and partners students with industry leaders such as Siemens, Canon, Altria and NASA.
"Advanced manufacturing is an opportunity to bring manufacturing jobs back to the U.S.," said Kelly Marchese, Principal of Deloitte Consulting LLP. "To realize that goal, we will need both public and private organizations' commitment to apprenticeship programs such as CCAM to develop the much-needed skilled workforce. This is the inflection point — we cannot blink."
In exciting news for CCAM and the businesses involved with it, the organization recently hired a new president and CEO. John Milton-Benoit, a 20-year expert in manufacturing research and development, was appointed in late August. Milton-Benoit was also the founding director of the United Technologies Research Center's $75 million Additive Manufacturing Center of Excellence. The unit was responsible for the research group's strategic technology development for numerous departments.
With all these recent updates in advanced manufacturing, the Richmond Region continues to show that it is a top destination that offers many benefits for the industry.