Blog | 3 min read
Greater Richmond: A shared services haven
February 21, 2019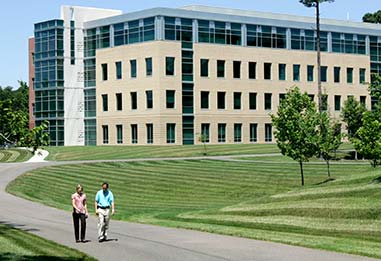 Companies with shared corporate services have seen many benefits from locating in the Richmond, Virginia, Region. The region's middle-market quality of life and affordability are two outstanding reasons for employers to relocate operations from more expensive metropolitan areas.
Middle Office and Shared Service operations
Last year, the Greater Richmond Partnership commissioned the Wadley Donovan Gutshaw Consulting Group, one of the nation's top site location consultant companies, to complete an analysis on how Greater Richmond stacked up against peer competitors for the suitability of a 'middle office' operation. The data showed that the Richmond Region bested its East Coast competitors, including Charlotte, N.C.; Columbus, Ohio; Jacksonville, Fla.; and Nashville, Tenn.
Several companies decide to escape the high real estate cost of the nation's capital by locating a shared services office two hours south in Greater Richmond:
Capital One operates its corporate campus in the region, with 11,000 local employees
CoStar's research division was moved to the area, ramping up to 600 employees in less than 12 months
ICMA-RC opened a backup headquarters location in the city's downtown

Research & Development
Research and Development (R&D) centers are popular in the area:
WestRock testing its newest packaging equipment at a local research and development facility
Hamilton Beach teams of engineers, designers, and consumer research and marketing specialists
The Altria Center for Research and Technology anchors the Virginia Bio+Tech Park
From a consumer perspective, the Richmond Region serves as a popular test market. Since the region's demographics and personal perspectives fairly represents American consumers as a whole, several food chains and technology companies have chosen the region for soft roll-outs prior to national launches. Capital One recently introduced its new café concept in the Richmond market.
Data Centers
Several companies have located data centers in the region, including Capital One, QTS, Peak10 and Bank of America.
However, with the installation of the MAREA and BRUSA subsea cable systems, the region's becoming an even more desirable location. The eastern half of the region has quick access to the connection point in Virginia Beach before the cable reaches Europe and South America.
Facebook is the latest to take advantage of the region's new connection points. The company is constructing three new 500,000 square-foot buildings with a planned total square footage to over 2.4 million square feet. The multi-billion-dollar project will run solely on renewable energy.
Call center operations
Richmond is a magnet for client engagement centers due to the congenial and available workforce.
Owens & Minor, Elephant Auto Insurance, Teleperformance, Minacs and LendUp have all opened customer management centers in the area recently. Dominion Energy and Wells Fargo have also operated long-standing call centers with continued workforce recruitment success.