Blog | 6 min read
Richmond's labor force hits all-time high in 2019
October 14, 2019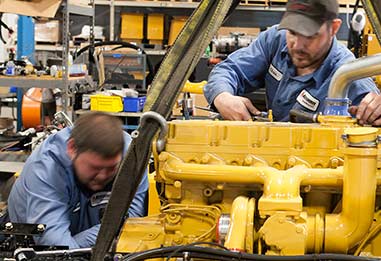 According to the U.S. Bureau of Labor Statistics, the size of the Richmond Metro Statistical Area's labor force hit its peak, exceeding 700,000 for the first time ever. The Richmond, Va. MSA grew to 703,525 in July 2019 with employment reaching the highest its ever been at 682,096. Since 1990, the region's continuous population growth and economic diversification has led the labor force to increase by 196,000 (39%). Warehousing and storage, ambulatory health care services, and administrative and support services were the top three industries driving Richmond's labor force to its all-time high.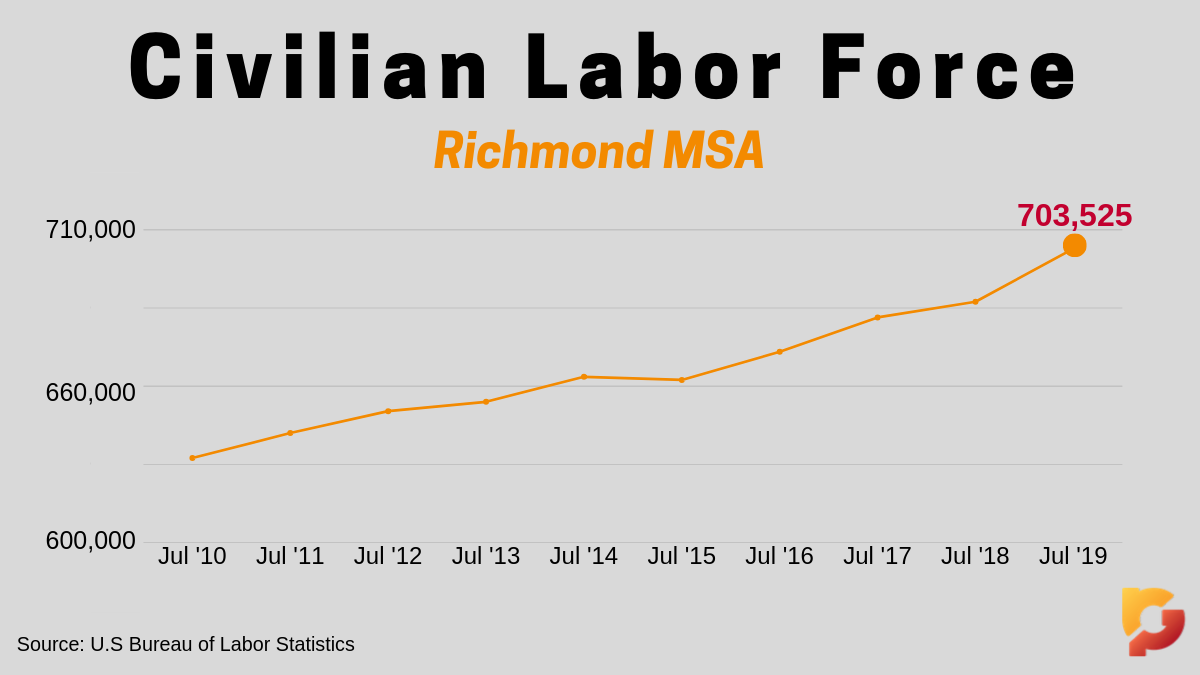 Then and Now
Over the past seven years, the Richmond MSA has seen its best civilian labor force and employment numbers. The region has broken its own records for the highest number of civilian labor force and employment for four consecutive years with 2018 and 2019 having one of the lowest unemployment numbers and rates on record.
Richmond's lowest number of unemployment was in 2000 with only 11,617 and the unemployment rate standing at 2.1%. Today, the unemployment rate is 3.0% with 21,419 unemployed – both being the lowest in the past decade with the unemployment labor force ranking the 11th lowest on record. Although Richmond's unemployment is 3.0%, it's still significantly lower than the national average which stands at 3.7% as of August 2019.
From 2010 to 2018, the Greater Richmond region's population grew by 200 residents each week. Over the eight-year period, the region saw a 9% growth in its population, adding 85,000 net new residents to the area. According to the American Community Survey 2012 – 2016, roughly 10,200 individuals moved from Washington, D.C., to Greater Richmond. More than 7,300 people moved from the Hampton Roads Region, 3,200 moved from New York and 1,800 moved from Charlottesville, Va. This increased number of residents into the Richmond Region has greatly contributed to the area's ever-growing civilian labor force.

Top Job Producing Industries
Since July 2018, the number of jobs increased by 7,335 for the Richmond MSA, with the top 10 job creating industries accounting for approximately 97% of this increase. The three industries that led the Richmond Region in job creation were warehousing and storage, ambulatory health care, and administrative and support services.
Warehousing and storage is the No. 1 job producing industry in Greater Richmond, accounting for approximately 1,214 new jobs in the region. Warehousing and storage is responsible for a total of 105,520 jobs and it's the 9th top U.S. job producing industry. Major companies such as Amazon, trucking company Western Express, produce distributor Coastal Sunbelt, and ocean freight mover Ocean Network Express accounted for much of the area's new opportunities. The recently-announced Amazon fulfillment center in the City of Richmond and the Ocean Network Express North American HQ expansion have contributed to hundreds of new jobs.
Ambulatory health care services are the region's and the nation's No. 2 top job producing industry with 1,038 net new jobs in the area and a total of 208,794 new jobs nationally. This is a 3% and 2.6%, respectively, change in new jobs since 2018. The industry includes physicians' offices and health care provided through outpatient services. VCU Health has contributed to this industry's job increase in the region with the VCU Health ambulatory health center and has announced it's ground-breaking of a new $349 million outpatient facility.
Administrative and support services accounted for 765 new jobs in the region and is the No. 3 top job producing industry in Richmond. The industry is the 7th top job producing industry in the U.S. with 113,975 new jobs created between 2018 and 2019. The industry had a 2% increase regionally and 1.2% increase nationally in the number of net new jobs.
Four other top 10 job producing industries in the Richmond Region and the U.S. are food services and drinking places, educational services, specialty trade contractors, and couriers and messengers. Food services and drinking places were responsible for 628 regional and 169,162 national new jobs. Educational services had 619 new jobs in the region and 111,286 new jobs in the U.S. Specialty trade contractors accounted for 553 new Richmond jobs with the nation having 156,897. Lastly, couriers and messengers brought in 527 new regional jobs along with 73,618 nationally.
Losing Industries
The top three job losing industries in the Richmond Region are insurance carriers and related activities, general merchandising stores, and sporting goods, hobby, musical instrument, and book stores. The region's reduction of brick and mortar retail stores are also among the top ten job losing industries in the U.S. Combined, these industries caused 1,500+ jobs to be lost in the Greater Richmond region.
Insurance carriers and related activities is the leading industry causing the largest number of lost jobs in the area. Although this industry had the highest number of jobs lost in the region in 2019, it was among the nation's top 25 leading job producers accounting for slightly over 25,000 new jobs in the U.S. Whole sale electronics, merchandising, and sport, music, hobby, and book stores are the nation's largest job losing industries. This reduction of retail of "brick and mortar" stores has accounted for nearly 250,000 job losses in the U.S. with Richmond accounting for less than 1% of the national total. Telecommunications and clothing accessory stores were other contributing industries causing both regional and nation decreases in jobs.
Workforce & Training
Greater Richmond's ideal location, Fortune 1000 companies and unique startups, and various industries make finding a job smooth. Virginia is the nation's top state for business, which provides Richmond with a solid business foundation where company giants and small businesses in many industries can flourish. The region's record-low unemployment rates and diverse booming industries ranging from advanced manufacturing to bioscience, express that transitioning jobs in the region is less painful compared to other regions.
The metro area is a magnet for labor, drawing a workforce from more than 40 localities statewide. A combination of diverse industries with numerous educational institutions provide an ample workforce with positive work attitudes and a range of skills and experience. Through nearly 30 colleges and universities, the region offers a highly-educated workforce, with 90% of the population 25 and older holding a high school degree or higher, and 37% holding a bachelor's degree or higher.
Workforce programs include the Virginia is for Learner's initiative, which is designed to change the future of learning in Virginia to meet the needs of students and suit the needs of modern employers. With unemployment low, the Virginia Economic Development Partnership (VEDP) and Virginia Community College System (VCCS) leaders have collaborated to craft a shared vision for a custom workforce recruitment and training incentive program in Virginia. It'll encompass a custom workforce incentive program in lieu of Virginia Jobs Investment Program (VJIP) for prospects who voice a preference for a full-service option. For competitive projects, one of Virginia's strategies to achieve this outcome is to offer the choice of:
A VJIP grant for those companies that want to execute their own workforce recruitment and training efforts, or
The new custom workforce recruitment and training incentive program