Blog | 9 min read
Top 10 economic development stories of 2020
January 25, 2021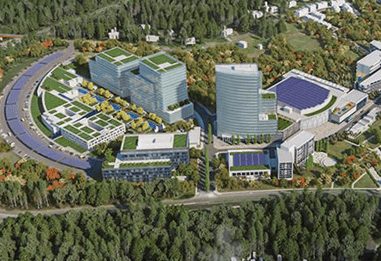 Although the news cycle was dominated by COVID-related stories in 2020, Greater Richmond witnessed many positive signs of economic progress. Here is our list of top 10 economic development stories of 2020.
#1: ASGN relocates Fortune 1000 headquarters
ASGN Incorporated, a provider of IT and professional consulting services, committed to investing a total of $12.4 million to move its corporate headquarters from Calabasas, Calif., to the region. The company plans to grow operations across the Commonwealth, creating a total of 700 new jobs and advancing Virginia's economic recovery strategy. In addition, it will invest $5 million in its new headquarters facility and create 121 new jobs in our region.
"With our two largest divisions based in the Commonwealth, it just made sense to have our headquarters in Henrico County," said Ted Hanson, CEO and President of ASGN Incorporated. "Virginia's strong pipeline of information technology talent for both the commercial and government sectors make it an ideal place for us to have our headquarters and continue to grow."
#2: SimpliSafe announces 572 jobs for customer support facility
SimpliSafe, a leading producer of self-installed home security systems, is investing $5.5 million to establish a customer support operation, creating 572 new jobs. Virginia successfully competed with North Carolina for the project.
"We are proud to now call Virginia and Henrico County our second home," said SimpliSafe CEO Christian Cerda. "SimpliSafe has been expanding rapidly, and we are excited to partner with the talented, diverse workforce in the Richmond region to continue keeping more and more Americans safe."
#3: T-Mobile expands, adds 500 jobs
T-Mobile US, Inc., one of the largest wireless network operators in the country, announced the relocation of one of its Customer Experience Centers. The relocation will bring $30 million in new investment to the facility, retain approximately 800 jobs and create up to 500 new jobs. This brings the facility's total employment to approximately 1,300 full-time employees.
"T-Mobile loves being a part of the Richmond community and now, as we are taking our 'Uncarrier' focus on customer service and experience to the next level, we're thrilled to make this investment to stay here for the long term!" said Callie Field, T-Mobile Executive Vice President of Customer Care.
#4: Phlow captures major White House contract
Phlow Corp., a continuous pharmaceutical manufacturing startup, won a $354 million, four-year contract to bring advanced manufacturing of America's most essential medicines at risk of shortage back to the United States, including medicines needed to treat COVID-19. Phlow is also building the United States' first Strategic Active Pharmaceutical Ingredients Reserve (SAPIR). SAPIR is a long-term, national stockpile used to secure key ingredients to manufacture the most essential medicines on U.S. soil, reducing America's dependency on foreign nations to support its drug supply chain.
Phlow was founded by Dr. Eric Edwards, Ph.D., also co-founder of Kaleo, a pharmaceutical company providing innovative solutions for serious and life-threatening conditions, and B. Frank Gupton, Ph.D., CEO of Medicines for All Institute, a program of VCU's College of Engineering working to reduce the cost of active pharmaceutical ingredients.
"Years from now, historians will see this innovative project as a defining moment and inflection point for protecting American families — and our country — from current and future public health threats," said Peter Navarro, director of the White House Office of Trade and Manufacturing Policy.
#5: Economic development, companies leap into action during COVID
The COVID pandemic interrupted every aspect of business. However, many companies and organizations leaned into uncertainty and found success. Regional allies and local Economic Development partners led by the City of Richmond's Leonard Sledge introduced the ForwardRVA initiative to support the cautious reopening of the area's businesses. From Hanover's takeout & delivery app to Henrico's support for local restaurants by purchasing meals for essential personnel to Chesterfield's Back in Business grant options, each locality offered unique ways of assisting local businesses.
While the global supply chain has seen major disruptions, local logistics firms rerouted, prioritized and banded together during this time of need.
The technology industry is likely one of the few industries that is dealing with the pandemic with  minimal disruption — adapting easily to working from home with existing workforce. One local success included Atlantic Union Bank, which processed thousands of applications for CARES Act funding by reconfiguring an existing loan platform. Local startups GoHappy and Roundtrip were able to adapt its technologies to meet demand for their respective communication tools. Read the blog here.
Business Insider named Greater Richmond one of the "Best Cities for Remote Workers" based on the cost of living, commute-time savings, Wi-Fi speed, coffee shops and coworking spaces.
#6: Temperpack announces $21m expansion
TemperPack, an innovator of sustainable packaging, announced plans in September to expand its production plant by adding state-of-the-art manufacturing equipment.
"When we established our Henrico, Va., facility in 2015, it was always with an eye toward expansion," said Jed Dutton, TemperPack's VP of Marketing. "We're excited that in just five years, even in the midst of a challenging economy, we see that goal being realized. The state's top tech pipeline, competitive operating costs, and our strategic location in the center of the East Coast are just a handful of the factors that have helped us accelerate our growth."
#7: Greencity developers unveil $2.3b ecodistrict project
In December, Henrico County officials endorsed a developer's vision for GreenCity, a $2.3 billion private, mixed-use "ecodistrict" that would promote economic development and environmental sustainability as well as include a 17,000-seat arena for major concerts, sporting events and other entertainment.
The development would integrate extensive parks, trails and open spaces among about 2 million square feet of office space, 280,000 square feet of retail space, 2,400 housing units, two hotels and a $250 million arena.
#8: JetBlue adds direct flights at Richmond International Airport
In September, JetBlue announced Richmond's first-ever scheduled transcontinental service to Los Angeles, its first nonstop option to Las Vegas, and an additional route to Tampa, Fla. The RIC service kicked off in November for TPA and December for LAX and LAS.
GRP is working closely with ChamberRVA and Richmond Region Tourism to support its success. Many thanks go GRP Regional Leadership Circle members for their support of this important initiative.
#9: Chesterfield expands Meadowville Technology Park
The Chesterfield County Economic Development Authority bought 353 acres for $21.05 million in March. The land is now part of the adjacent Meadowville Technology Park, which is home to an Amazon fulfillment center and a Capital One data center.
With the purchase of the acreage, the Meadowville Technology Park now has a total of about 1,650 acres. Since the property has access to large power lines and gas mains as well as ample water and sewer systems, a future manufacturing plant, a distribution and logistics facility or a data center are possible tenants that could occupy the site.
#10: Industrial speculative market draws investors
With 3.2 million square feet of industrial real estate under construction and more on the way, Greater Richmond is a hot market for industrial construction among developers, particularly with speculative investments. This year has been one of the most active years for industrial development in Richmond's history according to the latest CoStar Industrial Market Report.
The Richmond area's growth rate places it among the nation's fastest growing industrial real estate markets — only 46 cities have more construction under way than Greater Richmond. In comparison, 343 metro areas have less. Other cities with our same growth rate include Denver, Colo., Orlando, Fla., Provo, Utah, and San Francisco, Calif.
In October, Hanover Economic Development Director Linwood Thomas was quoted as saying, "We quickly moved to create a speculative building program with specific parameters that would provide a real-estate tax rebate to developers who would take on the calculated risk. Twenty-four months later, we currently have almost 1 million square feet of speculative space coming out of the ground from nationally-known developers. What we are finding is a majority of it is being leased before the roof is set."
Investors have been most active in the logistics subtype with new space for Amazon, FedEx and Brother International.
*Honorable mentions:
Ukrop's opens Market Hall location
By far, one of the most popular posts on GRP's social media in December was the opening of a retail location for Ukrop's Homestyle Foods. Many of the Richmond family's baked goods and food selections hadn't been tasted since the Ukrop's grocery business was sold to the owner of Martin's a decade ago.
The high demand caused long lines at the Market Hall with some customers waiting as long as four hours for the Ukrop's fried chicken. In its first 6 days of operation, the hall sold more than 13,000 pieces of chicken.
The Martin Agency recognized as 2020 Ad Agency of the Year
Richmond-based advertising firm The Martin Agency was named Adweek's 2020 U.S. agency of the year in December.
The firm won the Old Navy ad account in February 2020, adding the clothing retailer to a roster of clients that includes GEICO, UPS, Ritz, Oreo and Buffalo Wild Wings. In 2020, Martin posted $22 million or 30 percent net growth in new and organic revenue, the only U.S.-based finalist to report double-digit growth this year, Adweek says. The agency last won the honor in 2009.
Construction starts on Fall Line Trail
The Fall Line trail was dedicated in October, which will be a paved, multi-use trail that spans approximately 43 miles between Ashland and Petersburg, Va. The Fall Line trail will course through seven localities, cross the Chickahominy, James and Appomattox Rivers, and connect with parks, businesses and schools along the way.
Several sections of the Fall Line trail either already exist or are planned in the localities' comprehensive and special area plans. The Fall Line trail aims to connect the sections and establish another long-distance trail that provides opportunities for active transportation, recreation, and economic development.